Djokovic to play in Qatar in preparation for Australian Open
Six weeks after completing one of the greatest seasons in tennis history, Novak Djokovic begins this year with a warm-up for his Australian Open defense in Qatar.
The Serbian, also current holder of Wimbledon and the US Open, heads a strong field at the Qatar Open starting in Doha tomorrow, which also includes Rafael Nadal, Tomas Berdych and defending champion David Ferrer.
All eyes though, at least at the start, are likely to be on Djokovic to see if he can maintain the exceptional heights he achieved last year and to gauge his form ahead of the first Grand Slam of the year, which begins in Melbourne on Jan. 18.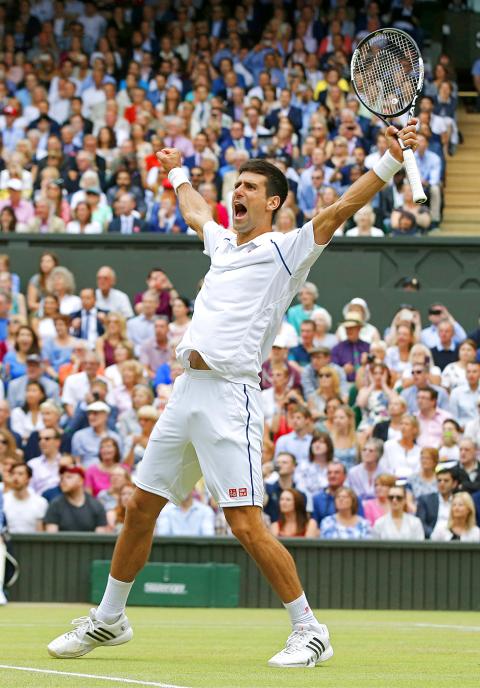 Novak Djokovic of Serbia celebrates after beating Roger Federer of Switzerland in the Wimbledon men's singles final in London on July 12.
Photo: AP
The 28-year-old dominated men's tennis last year, all but sweeping away the competition to take three majors, make 15 consecutive tour finals and win more than US$21 million (19 million euros) in prize money.
He also became the third man to reach all four Grand Slam finals in a year, losing out only in the French Open to Stan Wawrinka. Given his achievements last season, Djokovic must be looking to become the first player since Rod Laver, in 1969, to win all four Grand Slams in a single season.
There is also the extra prize of a "fifth major" this season, with an Olympics gold medal up for grabs in Rio in August.
"Here we come again to a new season," Djokovic said in a statement before arriving in Qatar on Wednesday.
However, Doha last year represented one of his rare failures. Big-serving Croatian Ivo Karlovic beat him in three seats in the quarter-finals.
The other big story in Doha is world No. 5 Rafael Nadal. Qatar should give some indication if the Spaniard is returning to form as he suggested he might be at the end of last season.
Nadal said he has had a great pre-season, training at home in Mallorca, and told journalists in the United Arab Emirates at the end of last month that he aims to be "very competitive" this year. He is the No. 2 seed in Doha and could barely do worse than he did 12 months ago when he crashed out in the first round, losing to Germany's Michael Berrer in three sets. The previous year, Nadal, 29, won in Qatar.
This year's defending champion is Nadal's dogged compatriot David Ferrer, so he might feel himself a little unlucky to be seeded fourth.
Ferrer beat the Czech Berdych, this year's No. 3 seed, in straight sets in January last year — one of five tournaments he won last year, as the 33-year-old showed no signs of slowing down.
"I will be there to defend my title and I hope I will be able to do so," Ferrer said in a statement released ahead of the tournament.
Also playing this year are world No. 29 Andreas Seppi and Argentina's Leonardo Meyer, ranked 35. The Qatar Open is played outdoors on a hard court and runs through Saturday. Given the riches of Qatar, it is unsurprising that total prize money for the event is US$1,189,605 — the largest purse for an ATP World Tour 250 event. The tournament has been held since 1993 when a 25-year-old Boris Becker triumphed, beating Goran Ivanisevic in the final in three sets.
Comments will be moderated. Keep comments relevant to the article. Remarks containing abusive and obscene language, personal attacks of any kind or promotion will be removed and the user banned. Final decision will be at the discretion of the Taipei Times.