Whiteside leads as Heat defeat Mavs
RAPTORS BEAT HORNETS: Toronto's DeMar DeRozan scored 23 points as the hosts defeated Charlotte after overcoming an eight-point deficit in the third quarter
Hassan Whiteside tallied 25 points and 19 rebounds as the Miami Heat got the job done without Dwyane Wade in the starting lineup with a 106-82 win over Dallas on Friday.
An ailing Wade came in off the bench for just the 10th time in his career after falling ill enough with the flu that he needed a pre-game IV.
Wade finished with 10 points and seven assists in 19 minutes of playing time in front of a crowd of 19,700 at the American Airlines Arena.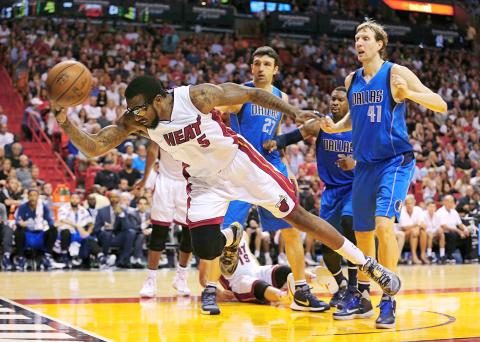 Miami Heat forward Amar'e Stoudemire, front, tries to keep the ball incourt during their game against the Dallas Mavericks at American Airlines Arena in Miami on Friday.
Photo: Steve Mitchell-USA TODAY
Whiteside matched a career high in points and set a season high in rebounds for the Heat, who improved to 19-13 and snapped a two-game losing skid.
"That's the type of identity we are trying to build," Heat coach Erik Spoelstra said. "This offense is going to happen in layers. What we are trying to develop is a team that shares."
Spoelstra said Wade felt nauseous before the game, which is when he received the IV.
The last time Wade was used in reserve in an NBA game was January 2014 against the San Antonio Spurs.
Guard Tyler Johnson replaced Wade as a starter. It was his first start of the season and just the third of Johnson's career.
Dirk Nowitzki was held to just 11 points for the Mavericks, who never led and had their four-game winning streak halted. The German star shot just four-of-14 from the floor.
The Mavericks failed to score a fast-break point and shot just 36 percent from the floor. Mavericks point guard Jose Juan Barea, who averaged 22.3 points in his previous four games, finished with just six points in his return to his hometown.
The Mavericks got off to a poor start, shooting 21.7 percent from the field in the first quarter and missing all seven three-point attempts.
That allowed the Heat to build a 22-10 lead at the end of the quarter.
Wade entered the game with 7 minutes, 45 seconds remaining in the second quarter and Miami ahead 36-22.
Miami extended their lead to 58-45 at the half. Wade had five assists in eight minutes as the Heat shot 66.7 percent in the second quarter. Whiteside had 18 points and 13 rebounds at the half.
After three quarters, the Heat stretched their lead to 80-61. Miami shot 57.9 percent from the field in the third quarter.
At the Air Canada Centre, Toronto guard DeMar DeRozan scored 23 points as the Raptors defeated the Charlotte Hornets 104-94.
The Raptors overcame an eight-point deficit after three quarters to seize control of the contest in the fourth.
Point guard Kyle Lowry tallied 18 points and 11 assists for the Raptors, who have won two straight.
Center Jonas Valanciunas grabbed 13 rebounds and scored 10 points, while forwards DeMarre Carroll and Patrick Patterson added 14 points each.
Center Bismack Biyombo came in off the bench to post 11 rebounds and score six points in the win.
Guard Kemba Walker scored 18 points and forward Marvin Williams scored 17 for the Hornets, who have lost two in a row.
Cody Zeller added 15 points and nine rebounds for Charlotte, while guard Nicolas Batum had 14 points and center Frank Kaminsky added 13 points.
"We finally got into a rhythm, got a couple of stops and that's all we needed," DeRozan said. "We had a couple of possessions where we were going back and forth and they were scoring. We just understood if we got some stops and some big buckets we could be right back in the game and we would be able to take the lead."
"We did a lot of good things," Hornets coach Steve Clifford said. "They are a good team and it's on the road. We were right there. I mean we should have been up eight, 10, 12 at the end of the third."
In other games on Friday, it was:
‧ Wizards 103, Magic 91
‧ Lakers 93, 76ers 84
Comments will be moderated. Keep comments relevant to the article. Remarks containing abusive and obscene language, personal attacks of any kind or promotion will be removed and the user banned. Final decision will be at the discretion of the Taipei Times.