Hawks extend streak to four with win
TO THE WIRE: The Thunder's Kevin Durant scored the go-ahead points and blocked a potential game-winning shot in the final seconds of their win over the Clippers
Dennis Schroder on Monday night scored 18 points as the Atlanta Hawks beat the Portland Trail Blazers 106-97 for their fourth straight win.
Schroder, Atlanta's backup point guard, lost a cap bonded to a tooth in a collision early in the fourth period, but was seven for 10 from the floor in a little more than 17 minutes on the court. The Hawks had six players score in double figures.
The Trail Blazers played without starting guards Damon Lillard and C.J. McCollum.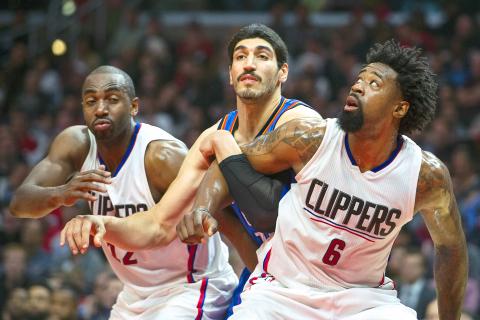 The Los Angeles Clippers' DeAndre Jordan, right, and teammate Luc Mbah a Moute, left, battle for position with the Oklahoma City Thunder's Enes Kanter in their game at the Staples Center in Los Angeles on Monday.
Photo: The Orange County Register via AP
Allen Crabbe had 19 points for Portland in a fill-in start.
Tim Frazier, making his first start of the season, had 12 points and seven assists.
The Trail Blazers have lost four straight.
THUNDER 100, CLIPPERS 99
In Los Angeles, Kevin Durant hit a go-ahead three-pointer with 5.8 seconds left before blocking a potential game-winning 18-footer by Chris Paul as time expired as Oklahoma City beat Los Angeles.
Russell Westbrook scored 33 points and Serge Ibaka added 17 for Oklahoma City. Coming off a 104-100 loss at Cleveland that snapped their six-game winning streak, the Thunder won for the 11th time in 14 games.
Paul had 32 points and 10 assists in another classic duel with Westbrook, who won his first NBA scoring title last season.
Blake Griffin and J.J. Redick each scored 15 for the Clippers, whose third straight loss equaled their longest skid of the season.
SPURS 106, PACERS 92
In San Antonio, Texas, Kawhi Leonard had 24 points as San Antonio improved to 16-0 at home.
Tony Parker scored 15 points for San Antonio, who have won six straight.
David West had seven points and five rebounds in his first game against the Pacers since leaving in the off-season to sign with the Spurs.
George Hill and Jordan Hill each had 15 points for Indiana.
ROCKETS 102, HORNETS 95
In Houston, Texas, James Harden scored 36 points as the Rockets squandered a double-digit lead in the fourth quarter before coming back for the win.
The game was tied before Harden drove into the lane and was fouled as he made a layup. He hit the free throws to put Houston up 94-91 with 31.6 seconds left.
Cody Zeller attempted a dunk contested by Terrence Jones and it bounced off the rim and back to the Rockets a few seconds later. The Hornets fouled Patrick Beverley and he made two free throws to extend the lead to 96-91.
Harden made 16 of 19 free throws and secured Houston's third straight win by making two with 13.9 seconds remaining.
Kemba Walker led the Hornets with 14 points.
NETS 105, BULLS 102
In Chicago, Brook Lopez had 21 points and 12 rebounds as the Nets stopped a five-game losing streak.
Brooklyn's Thaddeus Young added 16 points and 13 boards. Wayne Ellington made three three-pointers and scored 13 points.
Chicago center Joakim Noah sprained his left shoulder late in the third quarter, forcing him from the game.
Jimmy Butler scored 24 points in the Bulls' third straight loss. Pau Gasol added 20 points and nine rebounds.
Butler said before the game that he did not regret his critical comments of first-year coach Fred Hoiberg two days earlier following a loss in New York.
In other results, it was:
‧ Wizards 113, Kings 99
‧ Jazz 110, Suns 89
‧ Celtics 113, Timberwolves 99
‧ Magic 107, Knicks 99
Comments will be moderated. Keep comments relevant to the article. Remarks containing abusive and obscene language, personal attacks of any kind or promotion will be removed and the user banned. Final decision will be at the discretion of the Taipei Times.