Turkish PM excited by Russian Europa League showdown
Turkish Prime Minister Ahmet Davutoglu on Monday said he was looking forward to a potentially explosive UEFA Europa League round-of-32 clash between Fenerbahce SK of Istanbul and Lokomotiv Moscow, despite spiraling tensions between Russia and Turkey.
Fenerbahce were earlier drawn against Lokomotiv in Europe's second-tier soccer competition, with Moscow and Ankara experiencing their worst crisis since the Cold War after Turkey shot down a Russian warplane on the Syrian border on Nov. 24, but Davutoglu said he hoped that despite all the problems the match would be played in a good spirit.
"The Turks and Russians who will fill the stadiums here and in Russia are not adversaries, and still less enemies," he told A-Haber TV in an interview.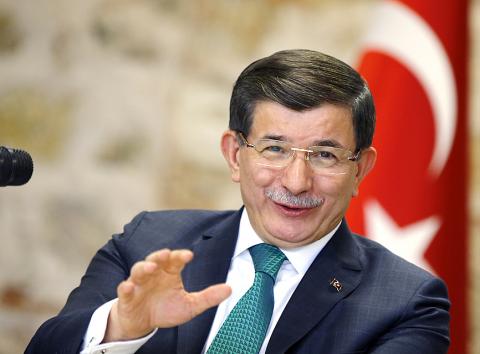 Turkish Prime Minister Ahmet Davutoglu speaks to foreign reporters in Istanbul, Turkey, on Wednesday last week.
Photo: AP
If the match is played in a gentlemanly spirit and helps reduce the tensions between the countries, then something positive will come from a draw that could seem negative," Davutoglu said.
There have been concerns over the behavior of Turkish and Russian fans on repeated occasions in the past years. Some Turkish fans last month provoked outrage by shouting "God is great" and booing the opposing Greek team during a minute's silence for the victims of the Paris terror attacks.
"We are going there for the sport," Fenerbahce SK secretary-general Mahmut Uslu was quoted as saying by Anatolia news agency. "We hope that the disputes will be over by then."
With Lokomotiv Moskova a trending topic in Turkey, not all Fenerbahce fans were so sanguine.
"We already hit them in the air and now on the turf — wait for us, Lokomotiv Moscow," one Twitter user wrote.
Fenerbahce are scheduled to host the first leg on Feb. 16 and then travel to Moscow for the return leg on Feb. 25.
Comments will be moderated. Keep comments relevant to the article. Remarks containing abusive and obscene language, personal attacks of any kind or promotion will be removed and the user banned. Final decision will be at the discretion of the Taipei Times.