Odell Beckham's touchdowns sink Miami Dolphins
New York Giants wide receiver Odell Beckham Jr had stomach flu at the weekend. On Monday night, he made the Miami Dolphins sick, scoring the game-tying and game-winning touchdowns, finishing with seven catches for a season-high 166 yards.
Beckham was the main target for quarterback Eli Manning, who passed for four touchdowns to lead the Giants past the Dolphins 31-24 at Sun Life Stadium.
"I wasn't going to be able to make it through the game," Beckham said of how he was feeling. "I could see both my calves cramping and my quads, [too]."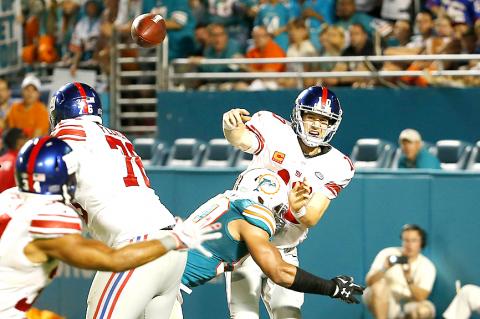 New York Giants quarterback Eli Manning, right, is tackled by Miami Dolphins defensive end Olivier Vernon, second right, in the second half of their NFL game at Sun Life Stadium in Miami Gardens, Forida, on Monday.
Photo: Steve Mitchell-USA Today
Seeing that, Beckham ran into the locker room early in the third quarter, received two bags of intravenous fluid, then came back to dominate the second half.
Manning completed 27 of 31 passes for 337 yards and did not throw an interception, helping the Giants (6-7) pull into a three-way tie for first place in the National Football Conference East along with the Philadelphia Eagles and the Washington Redskins.
The game-winning touchdown was an 84-yard throw to Beckham with 11 minutes, 13 seconds left in the fourth quarter.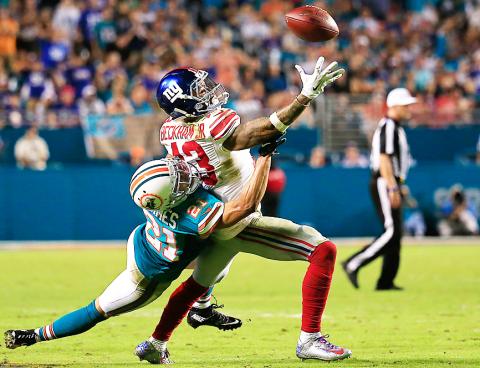 Odell Beckham Jr of the New York Giants, right, reaches for the ball while being defended by Brent Grimes of the Miami Dolphins in the second half of their NFL game at Sun Life Stadium in Miami Gardens, Florida, on Monday.
Photo: AFP
"A little double move," Manning said of the play. "The safety [Reshad Jones] was getting low and got Odell on a slant. We hadn't practiced it in a while, but we talked about it earlier today that it might come up. Sure enough, we got the coverage we wanted. I was thinking it would be a big play, but I didn't think it would be that open."
It was and it ruined the night for Miami (5-8), who were eliminated from playoff contention.
The Dolphins, who honored the 50 greatest players in franchise history during a halftime ceremony, have not made the playoffs since 2008. Miami have not won a playoff game since going 1-1 in the 2000-2001 post-season.
Now their season is essentially over.
"We're going to see who really loves the game," Dolphins interim coach Dan Campbell said of his players.
Miami got two rushing touchdowns from running back Lamar Miller and a touchdown throw from quarterback Ryan Tannehill.
The teams were tied 17-17 at halftime as Miller had scoring runs of 14 and 38 yards, while Miami also got a 36-yard field goal by kicker Andrew Franks.
On their first score, the Dolphins took advantage of a blitz by Giants safety Craig Dahl. Miller ran right by Dahl on the way to the end zone. On his second score, Miller broke a tackle in the backfield, got redirected, made a quick move and was gone up the middle.
New York, who led 3-0 after kicker Josh Brown's 35-yard field goal, fell behind and battled back from three deficits.
Manning threw second-quarter touchdown passes to wide receiver Rueben Randle (six yards) and tight end Will Tye (five yards).
The pass to Tye, which came with just 44 seconds left in the half, tied the score. It also capped a four-play, 80-yard drive that took 1:08 to complete.
In the third quarter, three plays after nearly getting intercepted on a deep pass to wide receiver Kenny Stills, Tannehill went back to a similar play.
This time he connected for a 47-yard touchdown to Stills, who beat the Giants on a double move toward the left corner.
New York tied the score 24-24 on a six-yard touchdown pass to Beckham in the right corner. The pass was ruled incomplete originally, but a review showed Beckham got both feet inbounds and the call was overturned.
Dolphins defensive tackle Ndamukong Suh said the Giants made the proper adjustments to win the game.
"They understood what they were doing in the first half with the running game wasn't working," Suh said. "They switched it up and went to their star player, Odell Beckham, and he made plays for them."
The Giants, who have struggled to close out games this season, losing four times when leading in the final minute of regulation, had enough to close the deal on Monday, pleasing coach Tom Coughlin.
"We hadn't been finishing," Coughlin said. "That was a major goal and we did that. Our guys hung in there. They've taken all the shots from the outside [for their losing record] and they have continued to work hard, believing they can win."
Comments will be moderated. Keep comments relevant to the article. Remarks containing abusive and obscene language, personal attacks of any kind or promotion will be removed and the user banned. Final decision will be at the discretion of the Taipei Times.