Undefeated Warriors beat Celtics in double overtime
ENDURING STREAK: The win was Golden State's 24th of the season, 28th consecutive victory since their last loss last season and just five shy of a 33-game record
Stephen Curry scored 38 points and the Golden State Warriors improved to 24-0 this season by outlasting the Boston Celtics 124-119 in double overtime on Friday night.
Counting the wins in their final four games last season, the defending NBA champions have taken 28 in a row. They broke a tie with the 2012-2013 Miami Heat for the second-longest winning streak in league history, and now trail only the 33 straight by the Los Angeles Lakers in 1971-1972.
Curry made only nine of 27 shots from the field, but he was six for 13 from three-point range and a perfect 14 of 14 from the free-throw line, sinking a pair of foul shots with 13.4 seconds left to give the Warriors a three-point lead.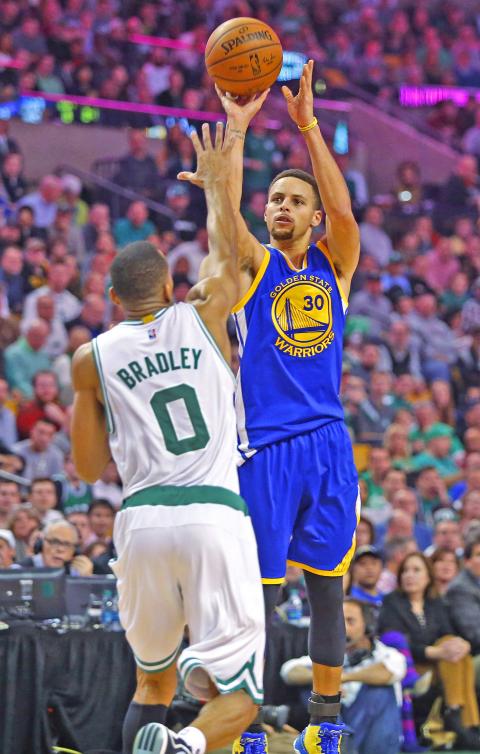 The Golden State Warriors' Stephen Curry, right, shoots over the Boston Celtics' Avery Bradley in the first half of their game at TD Garden in Boston on Friday.
Photo: USA Today
PELICANS 107, WIZARDS 105
In New Orleans, Tyreke Evans scored 27 points as New Orleans rallied to end a seven-game losing streak against Washington.
The Wizards led 97-90 in the fourth quarter before the Pelicans came back to win. New Orleans had not beaten Washington since Feb. 1, 2011.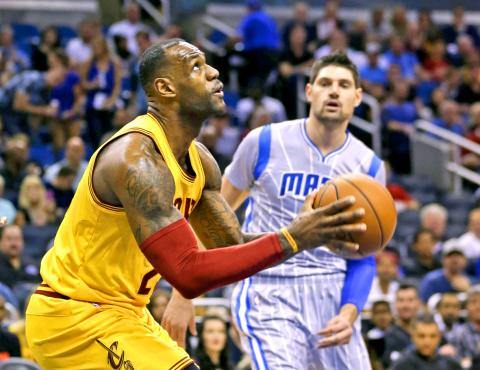 The Cleveland Cavaliers' LeBron James, left, looks for a shot as the Orlando Magic's Nikola Vucevic looks on in the first half of their game in Orlando, Florida, on Friday.
Photo: AP
John Wall led Washington with 26 points.
HORNETS 123, GRIZZLIES 99
In Memphis, Tennessee, Kemba Walker had 33 points and six assists and Nicolas Batum added 20 points as Charlotte beat Memphis for their fourth straight win.
The Hornets hit 18 of 37 shots from three-point range, with Walker and Batum each shooting five of eight from beyond the arc.
Marc Gasol led the Grizzlies with 17 points and nine rebounds.
RAPTORS 90, BUCKS 83
In Toronto, DeMar DeRozan had 27 points as Toronto held off late-charging Milwaukee.
The Raptors led by as many as 19 points in the latter stages of the third quarter before the Bucks cut it to four when Giannis Antetokounmpo hit a jumper with 5 minutes, 11 seconds to go.
Khris Middleton had 26 points for the Bucks.
PACERS 96, HEAT 83
In Indianapolis, Indiana, Monta Ellis had 24 points, six assists and six steals to help Indiana beat Miami and end a three-game losing streak.
Paul George, the NBA's third-leading scorer, had 23 for the Pacers.
Chris Bosh had 23 points and 10 rebounds and Dwyane Wade had 20 points, five rebounds and five assists in Miami's third straight loss.
PISTONS 107, 76ERS 95
In Philadelphia, Andre Drummond had 18 points and 16 rebounds and Marcus Morris scored 21 points as Detroit downed Philadelphia.
The Pistons opened the game on an 11-0 run and built a 24-point lead in the first half.
The Sixers dropped to 1-23. Before the game, the team announced that coach Brett Brown had signed a multiyear contract extension.
THUNDER 94, JAZZ 90
In Salt Lake City, Utah, Kevin Durant scored 21 points, including the last 11, for Oklahoma City to beat Utah.
The Thunder matched a season high with their fourth straight win.
Durant hit a tiebreaking three-pointer with 1 minute, 6 seconds left, then made two free throws with two seconds left to seal it. He also got eight rebounds.
Russell Westbrook had 24 points for the Thunder.
Gordon Hayward led the Jazz with 19 points and eight rebounds.
CAVALIERS 111, MAGIC 76
In Orlando, Florida, LeBron James had 25 points and eight assists as Cleveland rolled past Orlando.
Timofey Mozgov added 17 points as the Cavaliers beat the Magic for the 12th straight time.
Cavaliers guard Iman Shumpert made his season debut. Out since injuring his right wrist before training camp, he played 25 minutes and made five of seven shots while scoring 14 points.
In other results, it was:
‧ Nuggets 111, Timberwolves 108
‧ Spurs 109, Lakers 87
‧ Trail Blazers 106, Suns 96
Comments will be moderated. Keep comments relevant to the article. Remarks containing abusive and obscene language, personal attacks of any kind or promotion will be removed and the user banned. Final decision will be at the discretion of the Taipei Times.