IAAF clears Radcliffe, defends tests
The International Association of Athletics Federations (IAAF) cleared marathon world record holder Paula Radcliffe of doping allegations on Friday and rejected claims that it failed to act on hundreds of suspicious blood tests, saying the accusations lacked "any scientific or legal basis."
Track and field's governing body issued a 38-page response to allegations by British and German media outlets that it had ignored and tolerated rampant blood doping in the sport.
"The IAAF is not complacent about doping in its sport," the federation said. "It will continue to use every tool at its disposal to fight doping and protect clean athletes."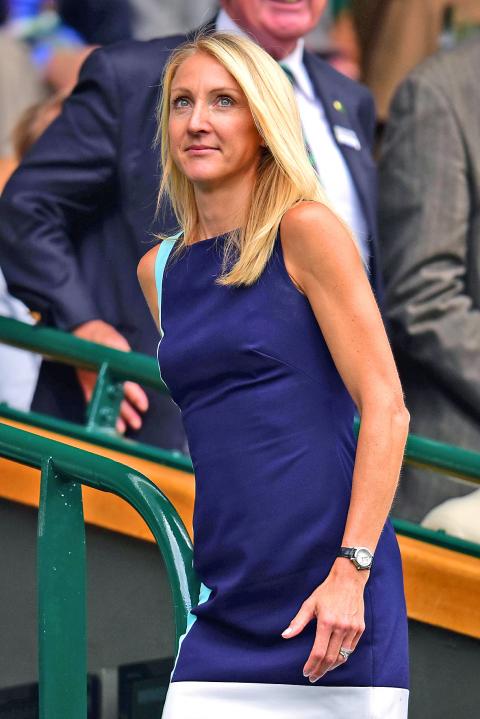 British athlete Paula Radcliffe takes her seat on centre court to watch British tennis star Andy Murray play against Canada's Vasek Pospisil in their men's singles quarter-final Wimbledon Championships match at the All England Tennis Club in Wimbledon, London, on July 8.
Photo: AFP
The statement was released a few days before IAAF president Sebastian Coe faces a British parliamentary hearing into the doping allegations made by the Sunday Times newspaper and German broadcaster ARD.
Already reeling from revelations of government-backed doping in Russia and criminal corruption charges against former IAAF president Lamine Diack, the federation said it had a duty to set the record straight on the blood doping issue.
"The IAAF cannot sit idly by while public confidence in its willingness to protect the integrity of its sport is undermined by allegations of inaction [and] incompetence that are based on bad scientific and legal argument," it said.
The IAAF singled out the case of Radcliffe, saying the three-time London Marathon winner was publicly accused of doping "based on the gross misinterpretation of raw and incomplete data."
Elevated blood value readings in some of Radcliffe's tests had "clearly plausible" explanations that were "entirely innocent," the IAAF said.
The IAAF said it followed up by testing Radcliffe's urine and blood samples for erythropoietin — a hormone that controls red blood cell production — and blood transfusions, and all the results came back negative. It said it collected 14 blood samples from Radcliffe for screening purposes from 2001 to 2008.
"The circumstances in which Ms Radcliffe came to be publicly accused are truly shocking," the IAAF said, adding that she was "hounded remorselessly" by the media until she felt compelled to publicly defend herself.
"Obviously there's been damage done to my reputation, and to the reputation of the sport, and that's why I took the stand I did against this," Radcliffe said on Friday after the release of the IAAF statement. "Yes, it was only me being singled out, but there are a lot of other innocent, clean athletes who have or may produce an atypical value at some point. That's precisely why it has to be kept so confidential until an expert that's properly qualified looks at it and assesses it."
Britain's national anti-doping agency said it also reviewed Radcliffe's test results and agreed there was no case against her.
"The data does not provide any evidence that any anti-doping rule violation proceedings should be brought," the UK Anti-Doping Agency said.
Radcliffe, who retired from competition this year, was publicly implicated during a British parliamentary hearing in August into the doping allegations leveled by the British and German media.
She acknowledged that her blood-testing data might have shown "fluctuations," but insisted there were no "abnormalities" and experts had concluded she had done nothing wrong.
Radcliffe set the world record when she ran two hours, 15 minutes, 25 seconds in winning the 2003 London Marathon. She also won the New York Marathon three times — in 2004, 2007 and 2008 — and the Chicago Marathon in 2002. Radcliffe competed in four Olympics, but never won a medal.
The Sunday Times and ARD examined the results of 12,000 blood tests involving 5,000 athletes from a leaked IAAF database covering 2001 to 2012 and concluded there was evidence of widespread cheating.
The reports said that 146 medals in disciplines ranging from the 800m to the marathon at the Olympics and world championships were won by athletes who have recorded suspicious tests.
The Sunday Times also claimed the London Marathon was won seven times by athletes who recorded suspicious tests.
Comments will be moderated. Keep comments relevant to the article. Remarks containing abusive and obscene language, personal attacks of any kind or promotion will be removed and the user banned. Final decision will be at the discretion of the Taipei Times.