Canadiens beat Devils 3-2 in penalty shoot-out
Alex Galchenyuk and Sven Andrighetto scored in regulation and again in the shoot-out as the Montreal Canadiens rallied from a two-goal deficit to beat the New Jersey Devils 3-2 on Friday night for their fourth straight win.
Mike Condon started for the injured Carey Price and preserved the win by stopping Patrik Elias with his pad on the Devils' fifth attempt in the shoot-out. He finished with 25 saves, the same as the Devils' Cory Schneider.
Adam Henrique and Lee Stempniak scored for the Devils in regulation and Jacob Josefson had the only New Jersey tally in the shoot-out. The Devils have lost four of five games.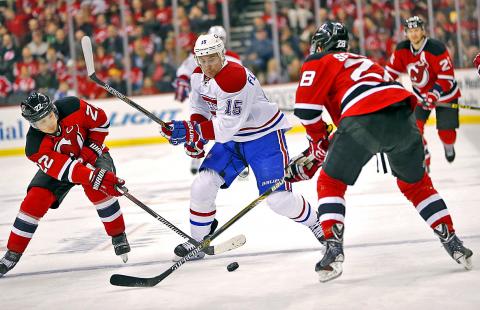 Montreal Canadiens left wing Tomas Fleischmann, center, skates against New Jersey Devils right wing Jordin Tootoo, left, and defenseman Damon Severson during the first period of their NHL hockey game in Newark, New Jersey, on Friday.
Photo: AP
Schneider had two outstanding stops in overtime, including a point-blank save on Max Pacioretty on a power play in the waning seconds and a short-handed stop on Tomas Plekanec's breakaway.
Andrighetto pulled Montreal within 2-1 with 4:43 left in the second period, and then Galchenyuk tied it with 8:46 left in the third.
Price is sidelined again with a lower-body injury. The NHL MVP and Vezina Trophy winner just recently returned after missing eight games with the same injury.
This was the opener of a home-and-home series with the teams scheduled to play in Montreal yesterday.
After a scoreless first period, the Devils jumped ahead 2-0 in the opening 9:06 of the second period, only to see the Canadiens rally to tie it.
Galchenyuk got the game-tying goal using his speed to score on a breakaway. Pacioretty set it up with a pass that allowed Galchenyuk to split defensemen Andy Greene and Adam Larsson and beat Schneider with a backhander for his third goal in as many games.
Montreal got back in the game late in the second period. Lars Eller kept a clearing pass by Devils defenseman Jon Merrill in the attacking zone and Andrighetto beat Schneider with a shot that handcuffed the goaltender for his second goal in two games.
The Devils took the lead early in the second period. Less than 30 seconds after Condon stopped Henrique on a two-on-one break, the winger scored his 11th goal of the season at 1:09. Stempniak skated the puck into the Montreal zone, sent a pass to defenseman John Moore, and he found Henrique in the left circle for a shot that went off Condon's glove.
Stempniak scored his fifth goal of the season with P. K. Subban in the penalty box for tripping. New Jersey worked the puck around the Canadiens' zone and Elias found Mike Cammalleri in the right corner. He sent a quick pass across the goal mouth that Stempniak jammed into the net after Condon stopped his initial shot.
Schneider had been spectacular early. He robbed Plekanec with a diving glove save with 3:32 left in the first period and stopped David Desharnais in close on a rebound a minute later. He also stopped Desharnais on a two-on-one break in the second period.
BRUINS 4, RANGERS 3
In Boston, Ryan Spooner and David Krejci scored 2:03 apart late in the third period as the Boston Bruins rallied to beat the New York Rangers 4-3.
Tuukka Rask had 24 saves for the Bruins, who extended their winning streak to a season-high five games in a wild finish.
Spooner's power-play goal with 3:46 left to play tied it at three, then Krejci struck again for the Bruins on a deflected slap shot that beat Henrik Lundqvist with 1:43 remaining.
Patrice Bergeron and Brett Connolly also scored for the Bruins, who won their third straight at home.
Oscar Lindberg, Rick Nash and J. T. Miller scored for the Rangers and Lundqvist finished with 30 saves.
BLACKHAWKS 3, DUCKS 2, OT
In Anaheim, California, Artem Anisimov scored 1:53 into overtime and Chicago rallied from a two-goal deficit in the final moments of regulation for a victory over Anaheim.
Marian Hossa and Duncan Keith scored man-advantage goals in the final 1:41 of regulation, and Brent Seabrook assisted on all three goals.
The defending Stanley Cup champions roared from behind in their first trip to Anaheim since winning game seven of the Western Conference Finals there six months ago.
Hossa ended John Gibson's shutout bid during a six-on-four power play with 1:41 to play, and Keith got the tying goal with 26.6 seconds left.
Patrick Kane extended his points streak to 18 games with an assist on Keith's score, and Corey Crawford stopped 23 shots.
Andrew Cogliano and Chris Stewart scored early goals for Anaheim, and Gibson stopped 29 shots.
STARS 3, CANUCKS 2, SO
In Dallas, Tyler Seguin scored on the first shot of the shoot-out, Antti Niemi stopped all three Vancouver attempts after making 34 saves and Dallas beat Vancouver.
Vancouver's Henrik Sedin tied the game on the power play with 4:10 left. Daniel Sedin assisted with a pass across the goal mouth.
The Stars outshot the Canucks 6-2 in overtime, but goalie Ryan Miller stopped them even during a power play. Miller finished with 23 saves.
Niemi deflected Vancouver's last shoot-out attempt by Chris Higgins wide of the net.
Dallas' Jamie Benn scored his league-leading 17th goal on a tip-in on the power play with 4:33 left in the first period.
In other NHL action, it was:
‧ Coyotes 2, Flames 1, OT
‧ Red wings 4, Oilers 3, OT
‧ Blue jackets 2, Penguins 1, OT
‧ Panthers 3, Islanders 2, SO
‧ Sabres 4, Hurricanes 1
‧ Capitals 4, Lightning 2
‧ Jets 3, Wild 1
‧ Flyers 3, Predators 2, OT
Comments will be moderated. Keep comments relevant to the article. Remarks containing abusive and obscene language, personal attacks of any kind or promotion will be removed and the user banned. Final decision will be at the discretion of the Taipei Times.