Rangers replace Leafs as most valuable team
The New York Rangers, worth an estimated US$1.2 billion, were on Tuesday named the National Hockey League's most valuable team by Forbes magazine, replacing the Toronto Maple Leafs.
The story on the magazine's Web site said the average value of an NHL club was US$505 million, up 3 percent from last year.
The Rangers, on top for the first time since 2004, were bolstered by generating the most revenue in the NHL last season at US$229 million, boosted by a US$1 billion renovation of home rink Madison Square Garden and runs to last year's Stanley Cup finals and this year's Eastern Conference finals.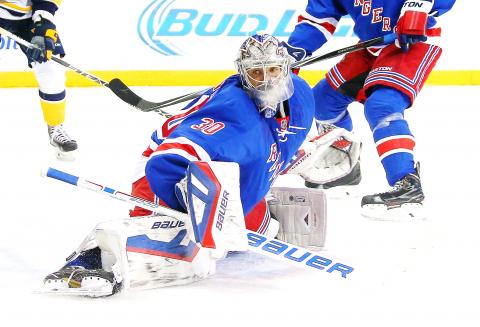 Henrik Lundqvist of the New York Rangers makes a save against the Nashville Predators in their NHL game at Madison Square Garden in New York City on Monday.
Photo: AFP
The US$95 million the Rangers made from premium seats and advertising led the NHL.
The Montreal Canadiens improved to second at US$1.18 billion with a jump of 18 percent in value, despite the drag of the Canadian exchange rate compared with US funds. They were the only one of Canada's seven NHL clubs to rise in value over the past year, in large measure due to a new local telecast deal that will pay C$68 million (US$51.1 million) a season, more than double their prior such income.
Toronto, who fell 12 percent in value to third at US$1.15 billion, had been on top since 2006. The Leafs have reached the playoffs only once since 2006 and the team's 13-year sellout streak at Air Canada Centre was snapped last March.
Revenue averaged US$133 million per team for the 2014-2015 season, an 8 percent jump from the prior season. Chicago were fourth, up 12 percent to US$925 million with a club that has won three Stanley Cups in six seasons.
Some teams lost money, but rose in value. Tampa Bay lost in the NHL Final and did not turn a profit, but jumped 15 percent in value to US$260 million, 25th overall, and boosted season ticket sales by 3,000.
At the bottom of the list were the Florida Panthers at US$190 million.
Comments will be moderated. Keep comments relevant to the article. Remarks containing abusive and obscene language, personal attacks of any kind or promotion will be removed and the user banned. Final decision will be at the discretion of the Taipei Times.