US tout professional rugby league
A professional rugby union league is to be launched next year in North America for the first time, as officials aim to capitalize on the increasing popularity of the sport.
A statement from the Professional Rugby Organization (PRO Rugby) said the six-team league would begin in April next year, with the blessing of USA Rugby and World Rugby, the sport's international governing body. It is to be the first time the sport has had a professional league in the region, where rugby is barely noticeable in a sporting landscape dominated by American football, baseball, basketball and ice hockey.
The teams are to be based in major metropolitan areas in the nation's northeast, the Rocky Mountains and California, a statement said. Teams from Canada are to be added to an expanded competition in 2017.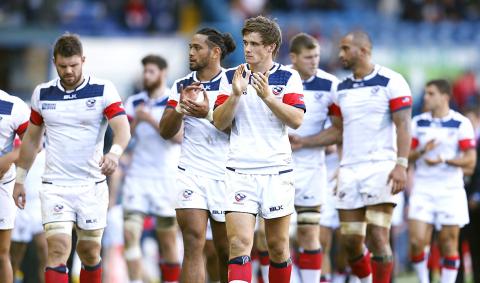 US players applaud fans after their Rugby World Cup game against Scotland at Elland Road in Leeds, England, on Sept. 27.
Photo: Reuters
"As the fastest growing team sport in the USA, it is the time to have a sanctioned professional competition," USA Rugby chairman Bob Latham said.
"We are very happy to partner with PRO Rugby in taking this step to popularize the game, to inspire Americans to fall in love with rugby, and to show the rugby world what American players can do," Latham added.
The league's inaugural season is to be bankrolled by Doug Schoninger, a New York businessman with a background in finance, who is PRO Rugby's chief executive.
"At this point, the league's first season is fully funded. It is all coming from me," Schoninger said, declining to give a figure for the total cost of the new venture's first season.
Schoninger said the six clubs embarking in the new league would be fully owned by PRO Rugby in a single-entity structure. Each side would have 25 to 30 players per roster, while maintaining a quota of five non-North American players per squad.
"Rugby is a natural fit for our country," Schoninger said. "Participation and interest in the sport is at an all-time high and the demand for a professional competition is clear."
World Rugby chief executive Brett Gosper welcomed the announcement.
"We welcome North American teams into the international rugby family," Gosper said in a statement. "With PRO Rugby in place, US and Canadian players will be able to train year-round and play in elite competition, something that has been sorely missing from rugby development in North America."
Rugby has been played in the US for more than a century and the US won gold at the 1920 and 1924 Olympics. It has increased in popularity in recent years with the men's seven-a-side team rapidly becoming a force on the international sevens circuit.
Chicago's Soldier Field hosted international matches involving the New Zealand All Blacks last year and Australia in September. The English Premiership last month announced plans to stage a regular season league match between London Irish and Saracens in New York in March.
Comments will be moderated. Keep comments relevant to the article. Remarks containing abusive and obscene language, personal attacks of any kind or promotion will be removed and the user banned. Final decision will be at the discretion of the Taipei Times.