Knicks drown out Lakers 99-95
Carmelo Anthony scored 24 points as the New York Knicks spoiled what might have been Kobe Bryant's last game at Madison Square Garden, beating the Los Angeles Lakers 99-95 on Sunday.
Bryant finished with 18 points, far off the 30.7 per game he had been averaging at the venue and fewer than half the 40 or more he managed on three occasions during a series of highlights in the arena.
The 37-year-old superstar, who has not said if he plans to retire after this season, missed two shots and twice fouled Anthony during New York's 11-0 run that turned a three-point deficit into a 98-90 lead.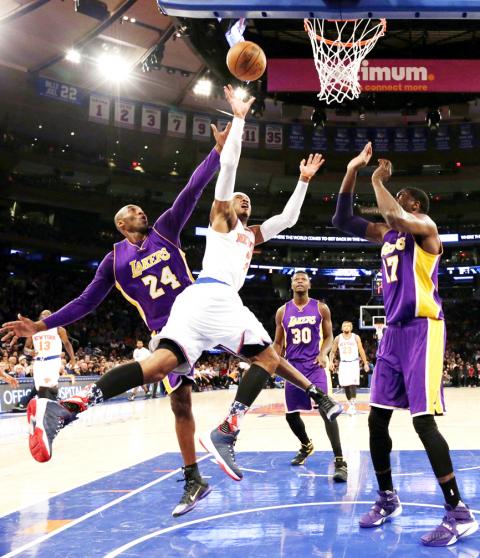 The New York Knicks' Carmelo Anthony, center, puts up a shot past the Los Angeles Lakers' Kobe Bryant, left, in their NBA game at Madison Square Garden in New York on Sunday.
Photo: EPA
Jose Calderon, Robin Lopez and Langston Galloway all scored 14 points for the Knicks, who snapped a three-game losing streak with their first home victory of the season.
CAVALIERS 101, PACERS 97
LeBron James scored 29 points as the Cavaliers beat the Pacers for their sixth straight win.
James took a knee to the leg on Friday and said he would get round-the-clock treatment so he could play against the Pacers. The treatment paid off as James hit seven free throws down the stretch and found Kevin Love for two key baskets in the final 27 seconds.
Love scored 22 points and had 19 rebounds for the Cavaliers, who have not lost since the season opener against Chicago.
Paul George scored 32 points for Indiana, who went scoreless for nearly four minutes after taking a 90-88 lead.
PISTONS 120, TRAIL BLAZERS 103
Andre Drummond had 29 points and 27 rebounds, while Reggie Jackson scored a career-high 40 points as Detroit rallied in the fourth quarter to beat Portland.
Jackson had 26 points in the fourth quarter alone as the Pistons outscored the Blazers 41-11 in the final period.
It was the Pistons' first win in Portland since 2007 and snapped a six-game overall losing streak to the Blazers.
Damian Lillard had 26 points and 11 rebounds as the Blazers' modest three-game winning streak was snapped. C.J. McCollum added 18 points.
The Blazers led by as many as 18 points in the third quarter, but Detroit's Kentavious Caldwell-Pope hit a three-pointer that closed the gap to 98-92 with 7 minutes, 18 seconds left.
Drummond's layup pulled the Pistons within 98-96 and Jackson's floater with 5 minutes, 21 seconds left tied it at 98-98. Jackson hit another to put the Piston's in front with 4 minutes , 46 seconds left, and they never trailed again.
HEAT 96, RAPTORS 76
Chris Bosh scored 23 points, while Hassan Whiteside added 20 points and 11 rebounds as the Heat rolled in the second half to beat the Raptors.
Dwyane Wade scored 12 points and Tyler Johnson added 10 for Miami, who outscored the Raptors 30-16 in the third and then put the game away with an 18-3 run in the fourth.
Jonas Valanciunas scored 17 points for Toronto.
Including playoffs, it was the 250th consecutive home sellout for Miami.
THUNDER 124, SUNS 103
Kevin Durant had 32 points and 11 rebounds as the Thunder beat the Suns to snap a three-game losing streak.
Russell Westbrook had 21 points, 13 assists and six rebounds, while Enes Kanter had 21 points on 9-for-10 shooting for the Thunder, who forced 23 turnovers and outrebounded Phoenix 52-33.
Eric Bledsoe had 28 points and 11 assists, while Markieff Morris scored 19 points and T.J. Warren added 17 for Phoenix, who lost for the third time in four games.
Comments will be moderated. Keep comments relevant to the article. Remarks containing abusive and obscene language, personal attacks of any kind or promotion will be removed and the user banned. Final decision will be at the discretion of the Taipei Times.