Dalton leads Bengals to 31-10 victory against Browns
Tight end Tyler Eifert caught three touchdown passes from Andy Dalton as Cincinnati remained unbeaten with a 31-10 victory over the Cleveland Browns at Paul Brown Stadium.
In last year's Thursday night matchup against the Browns, Dalton had a career-worst performance, with a 2.0 rating in a 24-3 loss, but he delivered a steady performance on Thursday, going 21 of 27 for 234 yards and three touchdowns.
"A little different from last year, huh?" said Dalton, who improved to 4-7 in prime time games.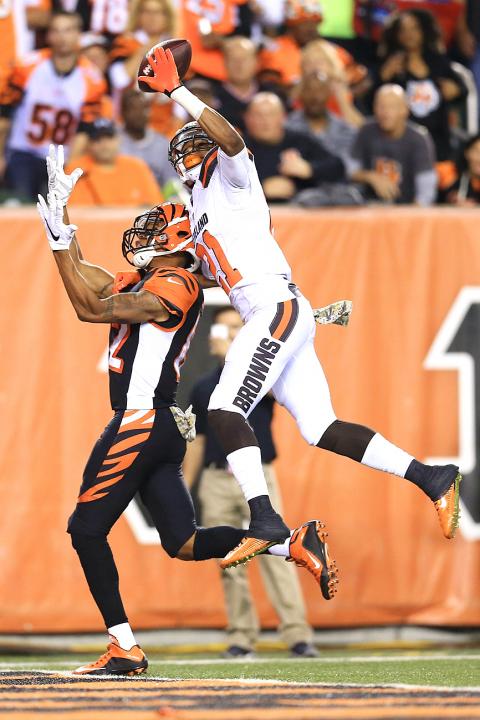 The Cleveland Browns' Justin Gilbert, right, breaks up a pass intended for the Cincinnati Bengals' Marvin Jones in their game at Paul Brown Stadium in Cincinnati, Ohio, on Thursday.
Photo: AFP
With the victory, the Bengals improved to 8-0 for the first time in franchise history.
"We don't get anything for that," coach Marvin Lewis said. "We've had to grind through. We've just got to do what we've done so far, take it one week at a time."
Receiver Marvin Jones had five catches for 78 yards against a Browns secondary playing without cornerback Joe Haden and strong safety Donte Whitner, who are both injured.
Browns quarterback Johnny Manziel started in place of injured Josh McCown and played well in spots, passing for 168 yards and a touchdown.
However, Cincinnati's defense sacked Manziel three times in the second half, during which the Browns (2-7) managed just 32 total yards.
"They came out and played a lot of cover two in the second half," Manziel said. "Things looked open a couple of times, but I could've gotten it down to a tight end or a running back. We had momentum going into the second half. We just didn't do enough."
Cincinnati figured to run the ball against the worst rush defense in the league, and the Bengals had 152 yards on the ground, led by running back Gio Bernard's 72.
On Cleveland's first possession of the third quarter, Manziel appeared to have gained 13 yards on third-and-12 from his own 10-yard line, but a Cincinnati challenge overturned the spot.
The Bengals converted that decision into three points when a 28-yard field goal by Mike Nugent gave them a 17-10 lead.
The clinching touchdown came early in the fourth quarter, when receiver Mohamed Sanu scored on a 25-yard reverse with Dalton among the lead blockers, making the score 24-10.
"That's my quarterback out there ready to block," Sanu said. "All I saw was green turf."
Cincinnati orchestrated a 10-play, 63-yard drive on their first possession of the night.
After the Bengals converted on fourth-and-inches, Dalton passed to Eifert for a nine-yard touchdown pass, putting them ahead 7-0.
The Bengals blitzed often on the Browns' opening drive, forcing Manziel into a pair of third-and-long situations.
On their next possession, Cleveland used a quick-hit passing game to ease the pressure on Manziel and drove 71 yards, but all the Browns could manage was a 27-yard field goal by Travis Coons.
"I thought we competed well for a half," Browns coach Mike Pettine said. "Our mistakes just caught up to us. That's a good football team and they made more plays than we did."
Cleveland defensive end Desmond Bryant beat left guard Clint Boling and sacked Dalton to force a punt. However, the Browns offense stalled again.
After the Browns held on fourth-and-two at the six-yard line, an offside penalty gave the Bengals a first down. Two plays later, Dalton and Eifert connected again, this time for a two-yard touchdown making the score 14-3.
Manziel was 11 of 18 for 128 yards in the first half and capped off a 92-yard drive by finding Duke Johnson for a 12-yard touchdown pass with 19 seconds left in the half.
Comments will be moderated. Keep comments relevant to the article. Remarks containing abusive and obscene language, personal attacks of any kind or promotion will be removed and the user banned. Final decision will be at the discretion of the Taipei Times.