Tendulkar, Warne sell cricket in New York
When Sachin Tendulkar and Shane Warne walk the streets of New York, they create an odd phenomenon. About 95 percent of pedestrians pass them by without a second look. The other 5 percent go absolutely bonkers.
Tendulkar and Warne are two of the world's best cricket players, which means little to the bulk of Americans. However, to those with roots in India, Australia or other cricket-loving lands, spotting them on the street is like a serendipitous encounter with Michael Jordan, Pope Francis or Taylor Swift.
"Wherever Sachin goes, you've got a billion people who love him," said Warne, who is in the US with Tendulkar for three exhibition matches, beginning on Saturday at Citi Field, home of Major League baseball's New York Mets. "That's just in India, let alone around the world."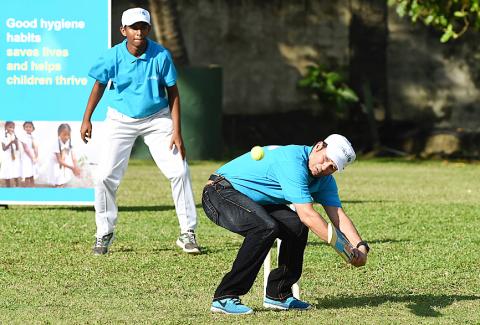 Former India cricketer Sachin Tendulkar, right, plays a shot during a children's event in Colombo, Sri Lanka, on Oct. 12.
Photo: AFP
"Coming to America, you really only have cricket lovers, but there's still so many of those, especially from India, Pakistan and Sri Lanka," the former Australia player said.
There are few sportsmen with the credentials of Tendulkar, 42, who has a good case for being the greatest cricket batsman. He began playing for India at 16, and by the time he retired at 40 he had scored 15,921 runs in Test matches, the top level of the game, more than 2,000 ahead of his nearest rival.
Warne, 46, is generally considered to be the greatest of spin bowlers — tricky rotating deliveries that can bamboozle batsmen. He ranks second in wickets taken in Test matches.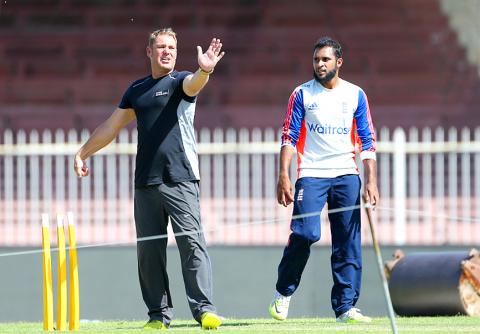 Former Australia cricketer Shane Warne, left, gives bowling advice during a training session at the Sharjah Cricket Stadium in the United Arab Emirates on Friday last week.
Photo: Reuters
Warne and Tendulkar said they welcomed the partial respite that the US gives them from their sometimes suffocating notoriety in cricket countries.
"There is a bodyguard with me 24 hours," Tendulkar said matter-of-factly.
"It actually could harm him; he gets stampeded," Warne said.
Tendulkar and Warne are to captain opposing teams of retired cricketers for the exhibition games at Citi Field, on Wednesday next week at Minute Maid Park in Houston, Texas, and on Saturday next week at Dodger Stadium in Los Angeles. The lineups read like a who's-who of cricket over the past 25 years, including superstars like Brian Lara of the West Indies, Wasim Akram of Pakistan and Muttiah Muralitharan of Sri Lanka.
To Americans, cricket can conjure up images of sleepy English afternoons.
"Everyone has this preconceived idea of what cricket is," Warne said. "A five-day Test match, no result, like: Yawn."
TWENTY20
However, the game at Citi Field is to be Twenty20 cricket, a fast-paced three-hour form of the game that has been growing in popularity.
"It's a great version of the game," Warne said. "It's got the skill, the athleticism. It's the rock 'n' roll version, you've got no time to think."
"Toward the end, every ball matters," Tendulkar said.
It is possible that the game could leave a lasting mark on Citi Field, or at least on its big video screen in center field.
"If you work out the angles at Citi Field, the screen is in a bit of the hit zone," Warne said with a grin. "Like when you look at dimensions and the way the cricket pitch is going to be dropped in, if some of these guys hit the ball over 100m."
Making Citi Field suitable for cricket will take some doing. The most vital part of a cricket field is the pitch — a hard strip of rolled ground 22 yards (20m) long and 10 feet (3m) wide, on which the bowler bounces the ball to the batsman. The quality and nature of the pitch can have a profound effect on how a game plays out.
Organizers have grown a pitch in Indianapolis and are to transport it to New York on a flatbed truck for the game. A space is to be dug in the field and the pitch will be dropped into place. The baseball mound is also to be removed to prevent fielders from tripping over it.
The players in the exhibition games are all a bit past their primes, but Warne and Tendulkar believe the quality of cricket will be high.
"They're training, proper training," Warne said. "It's nice to get back into it, and bowling and batting again, and feeling that rhythm. It's sort of like getting a band back together."
Despite their different personalities — Warne is a larger-than-life figure who talks with brio of his visits to Las Vegas, Tendulkar a 1.65m mild-mannered philosopher — the two men share an easy rapport.
"In the 25 years I'm playing at the top level, there's no one better than Sachin Tendulkar," Warne said.
"He's my official spokesman," Tendulkar said.
Tendulkar is one of the most popular people in India, and there has been much speculation about what is next for him as his career winds down. For now, much of his focus is on charity work. He is raising money for villages without electricity in India and drought-hit farmers in Maharashtra.
"It is the second innings of my life," he said. "The first innings was all about playing cricket."
He is also the father of Arjun, a 16-year-old who plays cricket.
"He's in a tough position, because he has no option but to have his surname," Tendulkar said. "And that's not easy for a 16-year-old kid. He is judged every ball."
Tendulkar and Warne took in Game 5 of the World Series at Citi Field on Sunday, raising the obvious question of whether they could have been baseball stars had they been born elsewhere.
"In any sport, the highest level is competitive, far more competitive than you'd imagine," Tendulkar said.
Warne had a bit more confidence: "I'm sure if Sachin did what he did in cricket, he would have done very well. As a pitcher, hopefully, I would have done OK too."
Warne has even become a New York Mets fan.
"I know they lost, I know that sounds weird, but watching them play, I felt for them," he said, adding that his favorite player is Matt Harvey.
US POPULARITY
Warne and Tendulkar say they hope the exhibition games will continue the long process of raising cricket's popularity in the US, where the sport dates to the 1700s.
"It has taken a while to pick up, but now it's gathering momentum; eventually we'll get there," Tendulkar said with a laugh.
The US competes in cricket internationally, but despite a decent number of players, mostly of Indian and Caribbean extraction, it has not fared well in recent years. In a qualifier for the Twenty20 World Cup in July, the US were eliminated, finishing behind Ireland, Hong Kong, Namibia and Papua New Guinea.
"If we can encourage some kids to actually play cricket, who knows?" Warne said. "In a few years down the track, America could have a World Cup team."
Will Americans eventually embrace the gentlemanly, Old World and sometimes confusing game?
"The vision is to globalize cricket," Tendulkar said. "Somewhere we need to start. We are ready to clap. You need two hands to clap. Our hand is up."
Comments will be moderated. Keep comments relevant to the article. Remarks containing abusive and obscene language, personal attacks of any kind or promotion will be removed and the user banned. Final decision will be at the discretion of the Taipei Times.