Cheika sets sights on next year, targets improvement
Australia coach Michael Cheika said the Wallabies must improve if they are to overhaul Rugby World Cup champions New Zealand and that he is setting his sights on beating England in a three-Test series in June next year.
Cheika and other team members were greeted with applause and cheers in Sydney when they arrived at the airport early yesterday, four days after losing the Rugby World Cup final in England 34-17 to the All Blacks at Twickenham.
A number of New Zealand's top players will not play for the national side again, but Cheika said: "Our goal is to improve, not to be waiting for other teams to go worse because of this or that reason."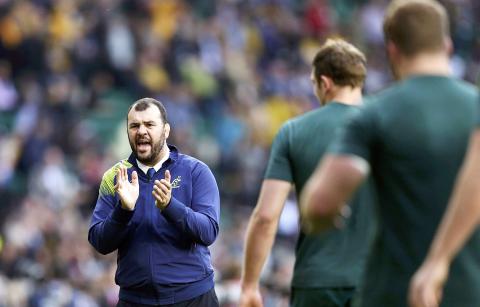 Australia coach Michael Cheika claps during a warm up before the Rugby World Cup final against New Zealand at Twickenham in London on Saturday last week.
Photo: Reuters
"I don't think they [New Zealand] will get worse, they've got so much depth over there," he said.
Next year's Australia-England matches are to be the first time in the century-old rivalry that the teams will meet in a three-Test series. They last met on three occasions in the same year in 2010, although just two matches were played in Australia.
Cheika was non-committal about whether he would look to complete a full four-year term after having been named World Rugby's coach of the year after just 12 months in the job.
"I'm in to 2017 and for me it's irrelevant whether I'm on to 2019 or 2017, or 2016, I want to do the best so the team is in the right position to keep getting better in the future," Cheika said.
Fullback Israel Folau also returned yesterday and said he was among those who needed to improve. The former rugby league and Australian Rules football player injured his left ankle in the pool stage and his movement was restricted for the rest of the tournament.
"I wasn't happy with how things went, obviously I think the injury set me back, but in saying that, that's part-and-parcel of what comes with the game," said Folau, who is to shortly start a stint playing in Japan. "But I guess I can learn from the experience now and the next time I go through something like this I can go through it in a more positive way."
Folau in July said that he would play the remainder of the Top League season with the Osaka-based NTT Docomo Red Hurricanes.
Comments will be moderated. Keep comments relevant to the article. Remarks containing abusive and obscene language, personal attacks of any kind or promotion will be removed and the user banned. Final decision will be at the discretion of the Taipei Times.