New York Rangers beat Capitals 5-2
SEMI-FINAL REMATCH: New York won their fifth straight home game as the Caps lost for the first time in five road games, while Connor McDavid was injured in Edmonton
Kevin Hayes broke a deadlock late in the first period, while Henrik Lundqvist made 32 saves as the opportunistic Rangers beat the Capitals 5-2 on Tuesday night in their first meeting since New York defeated Washington in Game 7 of the Eastern Conference semi-finals last spring.
Hayes, rookie Oscar Lindberg, Kevin Klein and Derick Brassard each had a goal and an assist as the Rangers extended their points streak to seven games (5-0-2). Jarret Stoll scored his first for New York, who extended their home winning streak to five games.
Alexander Ovechkin, stopped point-blank twice by Lundqvist, and Marcus Johansson scored for the Capitals, who lost for the first time in five road games.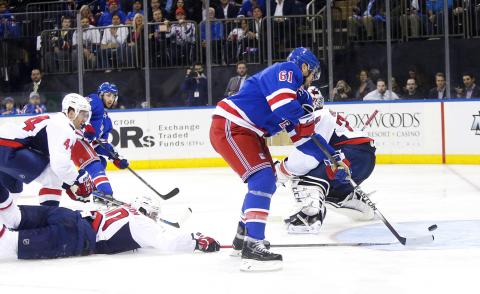 The New York Rangers' Rick Nash, center, Washington Capitals' Marcus Johansson, bottom left, and teammate Brooks Orpik, left, watch a shot by the New York Rangers' Derick Brassard, top left, get past goalie Braden Holtby for a goal during the second period of their NHL game on Tuesday in New York City.
Photo: AP
OILERS 4, FLYERS 2
In Edmonton, Canada, Ryan Nugent-Hopkins scored two goals, while Taylor Hall had a goal and two assists as Edmonton beat Philadelphia after top draft pick Connor McDavid was injured.
With the Flyers leading 2-1 and 1 minute, 44 seconds remaining in the second period, McDavid had a partial, short-handed breakaway, but fell awkwardly and was ridden hard into the boards by Philadelphia defensemen Michael Del Zotto and Brandon Manning, who also lost their balance on the play.
McDavid left the ice favoring his left shoulder. He was seen wearing a sling in the hallway behind the dressing room and did not return for the third period. He had 12 points in his first 12 games and was selected the NHL's Rookie of the Month for last month.
Matt Hendricks also scored for the Oilers, who outshot the Flyers 49-22.
Scott Laughton and Ryan White scored for the Flyers, who have lost five straight.
STARS 5, BRUINS 3
In Boston, Tyler Seguin scored three goals against his former team as Dallas beat Boston.
Jyrki Jokipakka got his first NHL goal and Alex Goligoski had his first of the season for the Stars, who ended the Bruins' four-game winning streak, despite being outshot 39-19.
Jason Spezza and John Klingberg had two assists each for the Stars. Kari Lehtonen made 36 saves.
Loui Eriksson scored twice for Boston, and Colin Miller got his first career goal. Tuukka Rask allowed five goals on 19 shots and was mocked by Bruins fans when he made an easy stop late in the game.
Boston lost center Chris Kelly 1:40 into the game with a broken leg.
Seguin's seventh career hat trick was his sixth with the Stars, who acquired him in a trade with Boston in the summer of 2013.
RED WINGS 2, LIGHTNING 1
In Detroit, Red Wings rookie Dylan Larkin scored to break a third-period tie against Tampa Bay.
The 19-year-old Larkin skated up the right boards and passed the puck to linemate Justin Abdelkader, who quickly returned it to Larkin. He knocked it under the arm of goalie Ben Bishop at 5:54.
Larkin has scored in consecutive games. It was Abdelkader's first point since the second game of the season.
Riley Sheahan also scored for Detroit, and Jimmy Howard made 29 saves.
Nikita Kucherov scored with a a five-on-three advantage for Tampa Bay. With a minute remaining, Lightning defenseman Anton Stralman hit the crossbar.
In other NHL action, it was:
‧ Kings 3, Blues 0
‧ Blue Jackets 5, Sharks 2
‧ Islanders 2, Devils 1
‧ Senators 2, Canadiens 1, Ot
‧ Avalanche 6, Flames 3
Comments will be moderated. Keep comments relevant to the article. Remarks containing abusive and obscene language, personal attacks of any kind or promotion will be removed and the user banned. Final decision will be at the discretion of the Taipei Times.