Dygert, White claim one-two finish at road worlds
Chloe Dygert and Emma White kept the US soaring at the UCI Road World Championships.
Dygert captured the gold medal and White grabbed the silver in the junior women's time trial on Monday, the first individual event of the championships.
Anna-Leeza Hull of Australia took the bronze on a cool, blustery day on the 15km course through downtown Richmond.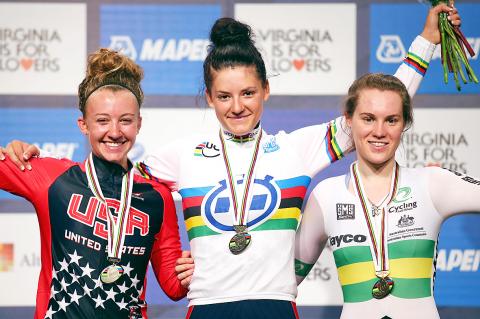 Chloe Dygert, right, and Emma White of the US celebrate on the podium after the junior women's individual time trial on day two of the UCI Road World Championships in Richmond, Virginia, on Monday.
Photo: AFP
"I just had a lot of support from everyone," Dygert said with a wide grin before receiving her gold medal. "What is better than being in America and going one-two?"
In the other race, Mads Wurtz Schmidt of Denmark covered two laps of the course in 37 minutes, 10 seconds to win the under-23 men's time trial. Maximilian Schachmann earned the silver and German teammate Lennard Kamna the bronze.
"I was shaking for one-and-a-half hours, still am," Schmidt said of the long wait while the rest of the field finished. "It is the most amazing time of my life."
Several favorites went off near the end, when a light rain slickened the roads. Among them was Ryan Mullen, the reigning silver medalist from Ireland, who finished 11th.
The championships were to continue yesterday with the elite women's and junior men's time trials.
Dygert and White posted their one-two performance after US-based BMC Racing with American rider Taylor Phinney got the first World Championships in the US since 1986 off to a blazing start on Sunday by winning the team time trial. Fellow American rider Evelyn Stevens helped her trade team, Boels-Dolmans, to silver in the women's time trial.
Dygert, who missed nearly all of last year with a knee injury, was the ninth rider off among the 37 in the junior race, but the Indiana native's time of 20 minutes, 18 seconds was so much faster than all other competitors that she hardly had to sweat it out.
White was the closest rider on the course and still finished more than a minute behind in second place. Hull was another 21 seconds back for her second consecutive bronze.
"I would not want to have anybody else win," said White, who also finished second to Dygert at this year's US time trial championships. "We have gone back and forth the last couple of years. I am really happy for her. She deserved it."
Comments will be moderated. Keep comments relevant to the article. Remarks containing abusive and obscene language, personal attacks of any kind or promotion will be removed and the user banned. Final decision will be at the discretion of the Taipei Times.