Japan seek second World Cup upset
FRIENDS REUNITED: The first rugby fixture between France and Romania in nine years, the longest gap since World War II, is to mark their 50th Test match
Japan produced one of the biggest upsets in sporting history by beating South Africa at the Rugby World Cup. In its own way, overcoming Scotland today would constitute just as stunning a result for the new darlings of the tournament.
A four-day turnaround is scant reward for delivering the most jaw-dropping result of this or any Rugby World Cup, but is something Tier Two teams — like Japan — have become accustomed to.
Rugby authorities have tried to make scheduling fairer for the so-called lesser nations compared with previous tournaments. The top nations are still favored, though.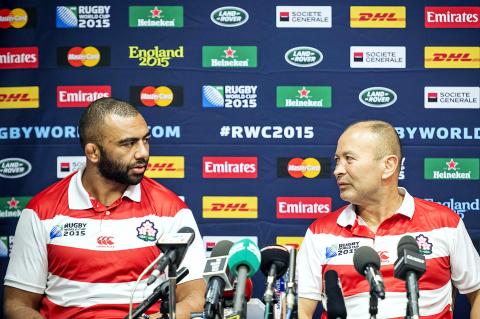 Japan coach Eddie Jones, right, and captain Michael Leitch speak at a news conference at the Hilton Hotel in Brighton, England, on Monday.
Photo: AFP
Japan must take on its second Tier One team in four days, forcing coach Eddie Jones into making eight changes to the starting lineup and testing his squad depth. Scotland, playing its first match of the tournament, are to be both fresh and ready.
"We have done a lot of work previewing Japan and they look like they can switch it on. It is no shock," Scotland center Mark Bennett said. "They looked very strong and took a lot of big hits from the South Africans, so there will be a few sore bodies."
The wily Jones, possessing World Cup coaching experience with Australia in 2003 and South Africa in 2007, started the mind games with Scotland on Monday.
"It is interesting that before the tournament, Scotland said we were going to tank the first game," Jones said. "So if we did tank the first game, we have got a good performance coming up in our second."
With the meticulous Vern Cotter in charge of Scotland, there is unlikely to be any danger of underestimating Japan like South Africa did.
Scotland are a frustrating team, always seemingly on the cusp of breaking through, only to fall short. This year's Six Nations was supposed to be the tournament where Scotland would flourish after encouraging results in Tests in November last year. They finished in last place, on zero points, and lost at home to Italy.
It was expected to be a straight fight between Scotland, South Africa and Samoa for the two qualifications places from Pool B. Japan have made it a four-team race.
Japan have never beaten Scotland. However, they had never beaten the Springboks before Saturday and look what happened then.
To break another barren run, Japan would have to be just as canny with their tactics. Against South Africa, Japan had the ball in and out of the scrum before their opponents' stronger pack had time to make their power show. Similarly, lineouts were quickly taken.
"South Africa got caught getting organized, when Japan were already in and gone," Scotland lock Adam Gilchrist said.
In theory, Scotland are opening up with their easiest two pool games — against Japan, then the US. Easy, though, is not a word being used so often in this World Cup.
AUSTRALIA VS FIJI
Like Japan, Fiji have a quick turnaround between games against top-tier teams. Five days after giving England a decent examination on the opening night of the tournament, Fiji face another member of the world's top three in Australia, who makes their debut.
Australia have won both World Cups in Britain — in 1991 and 1999 — and are a genuine contender this time round after winning the Rugby Championship.
It is to be a family affair under the Millennium Stadium roof, with cousins Nemani Nadolo (Fiji) and Tevita Kuridrani (Australia) facing off. Nadolo is one of 11 players to be retained from the England game.
Expect some poaching at the breakdown from Australia, who named two openside flankers in Michael Hooper and David Pocock. Pocock is at No. 8.
FRANCE VS ROMANIA
What happened to France and Romania? The oldest of friends have not seen each other in ages. Their Pool D match is to mark their 50th Test, but the first in nine years, the longest gap since World War II.
France helped develop the game in Romania, starting with Romanian students returning to Bucharest from universities in Paris and introducing rugby at the turn of the 20th century.
Their first Test was in 1924. They played almost annually from 1960 to 2000, and most results were close. That was until the fall of communism in 1989, when funding dried up and Romanian rugby withered. The Tests no longer became contests: France scored 50-plus in seven of the last eight, including the last, 62-14 in Bucharest, where Thierry Dusautoir made a try-scoring debut. France have two other survivors of that game, Romania four.
Romania have not beaten France since 1990 and, remarkably, no Tier One sides in the professional era.
With their opening win over Italy, France have won three in a row for the first time since 2012. They should make it four, even with 13 changes.
Comments will be moderated. Keep comments relevant to the article. Remarks containing abusive and obscene language, personal attacks of any kind or promotion will be removed and the user banned. Final decision will be at the discretion of the Taipei Times.