Badminton bringing 'sexy' back for Chinese
Badminton's bid to make female players wear skirts may have been ill-advised, but the sport is again seeking a "sexy" new image to bring in fans and revenue.
Even in China, where badminton has mass participation and world-beating stars, its visibility dims in the glare of more glamorous rivals like NBA basketball, soccer and tennis.
Now, everything is on the table as badminton looks to capitalize on its wide appeal and gain a profile that will bring sponsors running and turn its players into millionaires.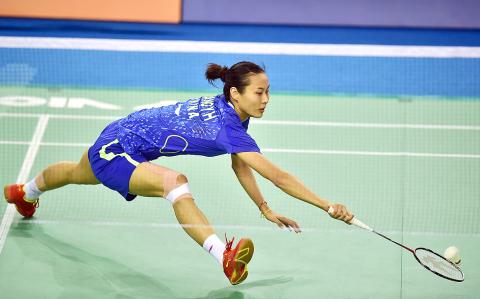 Wang Yihan of China returns against Sung Ji-hyun of South Korea during their women's singles final match at the Korea Open Superseries tournament in Seoul on Sunday.
Photo: AFP
New scoring, new advertising and even new shuttlecocks and court colors are being considered as badminton looks to shed its staid image and stand out in the digital age.
Owen Leed, who heads the Badminton World Federation's new commercial division created last year, said the sport needs cachet if it is to compete.
"That's one of the challenges we have — how do we make the sport more glamorous in terms of the sport itself being sexier, without that being a naughty word?" he said at last week's Sports Matters industry conference in Singapore. "That could cross everything from how we run our events in future to how we present on television to how we profile our stars."
Leed preferred not to discuss the infamous move to gain popularity by making female players wear skirts, which was finally shelved in 2012 following howls of protest.
However, he said the players' appearance was "all part of the picture" and would also be in focus as the sport attempts to modernize.
"As a sport, we're still quite conservative and if we want to grow the sport for the players to have an ability to earn more money... We have to think about how the sport is presented and indeed how the players present themselves," he said.
Leed said China has 250 million people playing badminton. It also has a stable of athletes that has dominated for years, winning all five Olympic titles in London in 2012.
However, even with home-grown stars like multiple world and Olympic champion Lin Dan, badminton's answer to Roger Federer, Chinese fans are still more likely to tune into the NBA or the English Premier League on TV.
"Without question, it's a top sport in terms of participation and activity at the professional level; it just doesn't get the commercial recognition," Leed said. "Tennis is doing an amazing things globally, not just in China, and we're struggling to break through this almost invisible radar that's holding us back. It's an easy sport to take part in, and when you look at modern players, they're like ninjas."
One of the major issues is technical — people increasingly watch sports on the move, but a fast-moving shuttlecock is almost impossible to see on a smartphone screen.
Different colored shuttlecocks and courts, and clever use of slow-motion footage, could all be part of the answer, Leed said.
"We're looking at everything from virtual graphics to all sorts of things that we might do to present the sport. Like scoring systems, [to] make the games shorter, sharper, potentially," he said.
"Competitively, we have a scoring system that works, but also needs to evolve. We have fantastic challenges," Leed added. "Everyone knows what badminton is, whether you play in your garden in the UK in summer, to whether you play professionally in the Asian environment or global environment."
Comments will be moderated. Keep comments relevant to the article. Remarks containing abusive and obscene language, personal attacks of any kind or promotion will be removed and the user banned. Final decision will be at the discretion of the Taipei Times.