Carroll says Seahawks will not panic after 0-2 start
The last thing Seattle Seahawks coach Pete Carroll is going to do after starting the season with two losses is overreact.
Every season he has had with Seattle has come to some type of crossroads. Last year, it was the Seahawks sitting at 3-3 after six weeks before winning 11 of their final 13 games and reaching the Super Bowl.
It just happens that an important point in Seattle's season has arrived a bit earlier than expected. After losing in overtime at St Louis in Week 1 and then 27-17 at Green Bay on Sunday, the Seahawks are at the bottom of the NFC West standings.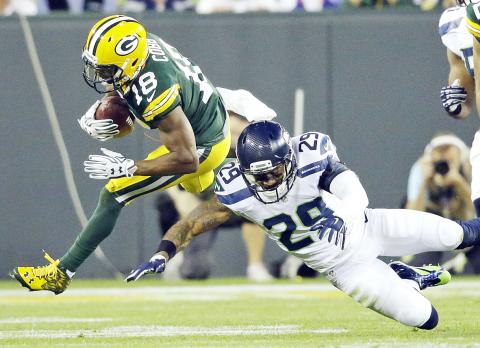 The Green Bay Packers' Randall Cobb, left, tries to get past the Seattle Seahawks' Earl Thomas during the first half of their NFL game in Green Bay, Wisconsin, on Sunday.
Photo: AP
"To play at the level that we have played at the last three years, we've done a lot of things really well and to play at that level you have to because you're challenged at every turn," Carroll said. "There is a lot of fine-tuning to get that done. There are a lot of teams that almost get on top, but it's very challenging. We're in the fine-tuning of it and not starting well doesn't mean we won't finish well."
Still, by starting 0-2, Seattle have put themselves in a difficult position, though not one that is impossible to overcome. Since the NFL playoffs expanded to their current format in 1990, 24 teams have started 0-2 and still made the post-season. Five of those teams — Arizona (1998), Buffalo (1998), New England (1996), Detroit (1995), Houston (1990) — lost their first two games on the road and were able to rally and make the playoffs.
The challenge for Seattle will be getting to the point where home-field advantage is a possibility, a key component of their two straight NFC titles. Of the teams that started 0-2 since 1990, only two finished as the No. 1 seed in their conference — Dallas in 1993 and Philadelphia in 2003.
The sentiment in the Seattle locker room after the loss to the Packers was that everyone on the verge of panic needs to take a step back.
The schedule also softens for Seattle after two of their toughest road games of the year to start. The Seahawks play three of the next four at home, including consecutive games against teams with injury concerns at quarterback: winless Chicago and winless Detroit.
"We have dealt with adversity before. What has made us good in the past is being able to come out of that adversity better than we were before," Seattle wide receiver Doug Baldwin said. "We are going to approach it the same way that we have in the past."
What is a concern for Carroll is Seattle's performance in the fourth quarter. The loss to Green Bay was the third straight game the Seahawks lost after leading in the fourth quarter. Seattle led New England 24-14 in last season's Super Bowl, then led St Louis 31-24 in the season opener and Green Bay 17-16 on Sunday.
Comments will be moderated. Keep comments relevant to the article. Remarks containing abusive and obscene language, personal attacks of any kind or promotion will be removed and the user banned. Final decision will be at the discretion of the Taipei Times.