US defeat Europe for Solheim Cup
'UNSPORTSMANLIKE': A call against rookie Allison Lee galvanized the US into action, coming from four points behind to win the biennial tournament by one point
After being infuriated by a call they found unsportsmanlike, the US on Sunday staged the biggest comeback in Solheim Cup history to wrest the golf trophy back from Europe.
Paula Creamer defeated Germany's Sandra Gal to complete the turnaround and secure a 14.5-13.5 victory for the US, who had trailed by four points going into the singles.
The match turned after US rookie Alison Lee was penalized for picking up the ball when she thought her putt was conceded in the morning four-balls, which had been suspended on Saturday.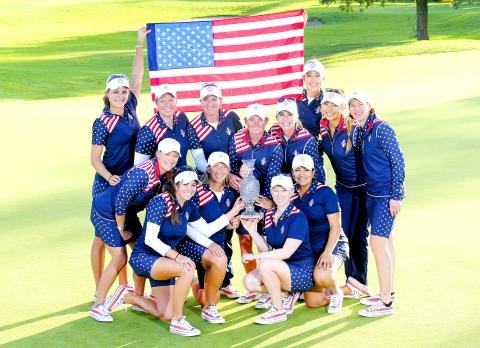 The US' players celebrate with the trophy after beating Europe in the Solheim Cup in Sankt Leon-Rot, Germany, on Sunday.
Photo: AP
"There's no way they could ever justify that. I don't care what you say, you just don't do that to your peers," US captain Juli Inkster said. "I don't know if my team needed to be fired up anymore, but they were real fired up."
And they dominated the singles to claim their first title since 2009, denying the Europeans their first three-peat. The US extended their series lead to 9-5. No team had ever come from more than two down going into the singles.
"I am so proud of our team. We were in there this morning and we were just so fired up and ready to get out there and just play good golf," said Creamer, who won four and three. "And this was so awesome. I played great. Seeing the girls and seeing the red on the board, I'm so proud of them."
Europe led 10-6 going into the 12 singles, but could only win three and draw another. Home golfer Caroline Masson missed the last big chance to retain the cup for Europe, before Gerina Piller made her 9-foot putt to win her match by one hole and keep US hopes alive.
"For some reason I looked up at the board and all I saw was 13," Piller said. "I'm like, this is it, it's all on me. It meant a lot to not let my team down."
Cristie Kerr then had nine birdies in 11 holes as she beat Hull three and two, and Angela Stanford ended her nine-match losing streak to beat Pettersen two and one, before Creamer completed the turnaround.
Morgan Pressel, Alison Lee, Michelle Wie and Cristie Kerr also won for the US, while Lexi Thompson won half a point in her all-square match against Carlota Ciganda of Spain.
"This is probably the closest knit group we've ever been a part of. We never stopped believing," Stanford said.
Pressel defeated Catriona Matthew of Scotland by two holes, Lee defeated Gwladys Nocera of France three and one, Wie had eight birdies in a huge six and four win over Caroline Hedwall of Sweden, while Lizette Salas defeated Azahara Munoz of Spain three and one.
Reid beat Brittany Lang two and one, Karine Icher of France defeated Brittany Lincicome three and two and Anna Nordqvist of Sweden finished with a birdie to best Stacy Lewis two and one.
However, after an emotional day, it seemed it was the US who had actually benefited from the controversial call against Lee.
Both Lee and Hull were in tears after that match, and Inkster used the incident as motivational fuel in her team talk before the singles.
"When it happened to her, we all jumped in there and said we've got to change this, we've got to right a wrong," Lewis said.
Europe captain Carin Koch had said the ball went too far to concede.
"The rules are the rules. You have to follow the rules," Koch said.
After lifting the trophy, Inkster was ready to move on from the controversy.
"I'm over it," she said. "We got the cup."
Comments will be moderated. Keep comments relevant to the article. Remarks containing abusive and obscene language, personal attacks of any kind or promotion will be removed and the user banned. Final decision will be at the discretion of the Taipei Times.