Snyder becomes youngest US wrestling champion
Nineteen-year-old Ohio State wrestler Kyle Snyder did not win a Big Ten or an NCAA title last season.
A world championship will have to suffice.
Snyder completed a stunning run on Friday through the world championships in Las Vegas, beating Russian Abdulsalam Gadisov at 97kg to become the youngest winner at worlds in US history.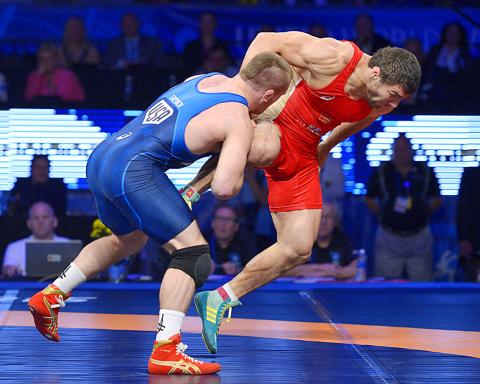 Kyle Snyder, left, competes against Abdusalam Gadisov in their gold medal match at the Wrestling World Championships in Las Vegas on Friday.
Photo: EPA
Fellow 19-year-old Russian Abdulrashid Sadulaev won his second consecutive world title, beating Turkey's Selim Yasar 6-0 at 86kg.
Oksana Herhel of Ukraine won in women's 60kg freestyle, and Azerbaijan's Haji Aliyev took home the world title in men's 61kg.
American Leigh Jaynes-Provisor surprisingly won a bronze medal at 60kg.
However, it is Snyder who has emerged as the story of the tournament. Snyder, who lost to Penn State's Morgan McIntosh in the Big Ten final, is taking a redshirt season from the Buckeyes in what seemed to be a long-shot attempt to qualify for the Rio Games.
Snyder had shown tremendous improvement since his NCAA season ended in March though, and he entered Las Vegas as a dark horse medal candidate.
Now he is the prohibitive favorite to represent the US in Brazil.
Snyder showed wisdom beyond his age by successfully defending a challenge from Abbas Tahan of Iran while he was on the shot clock, drawing a caution point to secure his semi-finals match.
Snyder and Gadisov both scored five points, but Snyder won the final because he had more two-point moMany in the wrestling community have begun to wonder whether Sadulaev — and not American Jordan Burroughs — is the best pound-for-pound wrestler in the world.
Sadulaev certainly made his case with the brilliant series of matches on Friday.
Sadulaev did not get scored on until the semi-finals — at one point cartwheeling over his opponent to escape danger — and did not need the full six minutes until he beat Iranian Alireza Karimimachiani 6-2.
Sadulaev was barely tested in the finals by Yasar, who can take solace in the fact that he was not pinned.
Despite being pinned just 18 seconds into her semi-finals match, Friday was still a big day for Jaynes-Provisor at 60kg, a non-Olympic weight. Jaynes-Provisor, 34, was not even ranked heading into the tournament, and she missed time this summer after she and her husband, US wrestler Ben Provisor, were involved in a car accident on Father's Day.
Comments will be moderated. Keep comments relevant to the article. Remarks containing abusive and obscene language, personal attacks of any kind or promotion will be removed and the user banned. Final decision will be at the discretion of the Taipei Times.