Federer, Djokovic to meet after routs in semi-finals
Five-times champion Roger Federer reached his first US Open final in six years as he flew by fellow Swiss Stanislas Wawrinka 6-4, 6-3, 6-1 in the semi-finals on Friday.
The second-seeded Federer, in remarkably sublime form at the age of 34, has not dropped a set in his formidable Flushing Meadows run and never let up the pressure on fifth-seeded French Open winner Wawrinka in a 92-minute demolition.
The trouncing set up a delectable one-two showdown in today's final against Australian Open and Wimbledon winner Novak Djokovic, who trails Federer 21-20 head-to-head.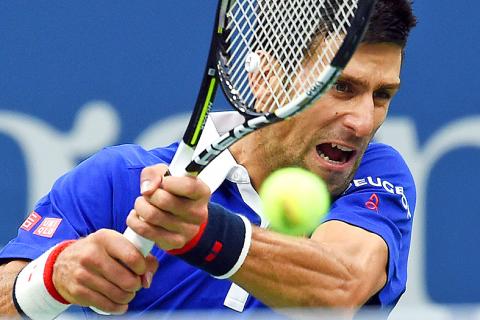 Novak Djokovic returns during his semi-final against Marin Cilic at the US Open in New York on Friday.
Photo: AFP
Federer won their previous match in last month's hardcourt final in Cincinnati, while Djokovic won their previous Slam encounter in the Wimbledon final.
The top-seeded world No. 1 from Serbia was even faster booking a berth in his fourth Grand Slam final of the year with a 6-0, 6-1, 6-1 romp over defending champion Marin Cilic of Croatia, who was hampered by an ankle injury.
Federer, the all-time Grand Slam singles king with 17 titles, will be gunning to add to his record Slams haul for the first time since his 2012 Wimbledon triumph.
"It's been a great tournament so far," Federer, who won five straight US crowns from 2004 and was runner-up in 2009, told the Arthur Ashe Stadium crowd. "I've tried very hard the last six years to get back in another final."
The evergreen Swiss was not broken by Wawrinka as he improved his head-to-head edge to 17-3 while avenging a quarter-finals loss to him this year at Roland Garros.
Wawrinka spoke of some trouble adapting to the evening conditions after his previous daytime match in the main stadium.
"Conditions a little bit different than when I play my match here on Ashe," he said. "It's a little bit more flying in the night. It's playing really fast. I didn't play my best game, but basically it's him, the way he's playing."
Federer used his sneak attack, rushing the net on return of second serve to apply immediate pressure. It produced mixed results, but helped set a fast-paced tone that seemed to unsettle Wawrinka.
"He's trying to play really aggressive, really fast," Wawrinka said.
Federer has been serving beautifully the entire tournament and he registered 10 aces against Davis Cup teammate Wawrinka.
"I'm serving very well, playing positive tennis, going for my shots and it seems to work," he said. "I'd love it to work just one more time this year."
Comments will be moderated. Keep comments relevant to the article. Remarks containing abusive and obscene language, personal attacks of any kind or promotion will be removed and the user banned. Final decision will be at the discretion of the Taipei Times.