Rangers catch Twins in wild-card race
THREE-BASE ERROR: Delino DeShields had a single in the seventh that brought Bobby Wilson, Hanser Albeto and himself home after Jose Bautista missed a ball
Yovani Gallardo collected his 100th career victory, while an error by Toronto right fielder Jose Bautista allowed Texas to score three times in the seventh inning in a 4-1 win over the Blue Jays on Thursday.
The Rangers (65-61) drew level with the Minnesota Twins for the second wild-card spot in the American League behind the New York Yankees, who are 1.5 games behind the Blue Jays (71-56) in the AL East.
"It means a lot. It's a big accomplishment," Gallardo said after he recorded the win. "It shows a lot of hard work through the years. It's not easy. It's something that as starter is very important."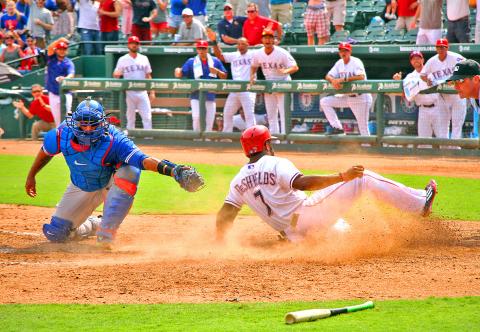 Texas Rangers center fielder Delino DeShields slides by Toronto Blue Jays catcher Dioner Navarro to score on a three-base error by right fielder Jose Bautista during their game at Globe Life Park in Arlington, Texas, on Thursday.
Photo: USA Today
Gallardo, who grew up in Fort Worth, won his third consecutive start, pitching 5-1/3 shutout innings and giving up three hits and three walks while striking out two.
"It's a powerful lineup, but I think my main thing is being aggressive with the fastball and get the guys to swing early," Gallardo said. "I was able to command the fastball on both sides of the plate and [hit] with just enough off-speed pitches."
"You have to move the ball around with the kind of hitters they have," Gallardo added.
Texas right-hander Shawn Tolleson pitched a scoreless ninth for his 26th save. He was one of four Rangers relievers who held Toronto to one run and five hits in 3-2/3 innings.
Texas' Delino DeShields, who scored the game's first run on first baseman Mitch Moreland's single in the first inning, had two hits.
One of his hits, a single in the seventh, led to three runs, when Bautista, looking to make a throw on a potential play at the plate, missed the ball and allowed catcher Bobby Wilson, second baseman Hanser Albeto and DeShields to score.
"I thought he was coming in to try to make a play," Toronto manager John Gibbons said. "The way the outfield is cut, it's got that little zig-zag. I thought he was just trying to make a play."
DeShields also had three walks, reaching base in all five plate appearances.
Blue Jays right-hander Marco Estrada (11-8) took the loss, going six innings and giving up one run, four hits and three walks while striking out six.
"We had a couple of shots and didn't capitalize," Gibbons said. "Gallardo, he's got our number. He's good. Locates his fastball. He's tough. He can pick people apart pretty good."
In other games on Thursday, it was:
‧ Phillies 5, Mets 9
‧ Nationals 4, Padres 2
‧ Dodgers 1, Reds 0
‧ Giants 9, Cubs 1
‧ Pirates 2, Marlins 1
‧ Rays 5, Twins 4
‧ Angels 2, Tigers 0
‧ Royals 5, Orioles 3
‧ White Sox 4, Mariners 2
‧ Cardinals 5, Diamondbacks 3
Comments will be moderated. Keep comments relevant to the article. Remarks containing abusive and obscene language, personal attacks of any kind or promotion will be removed and the user banned. Final decision will be at the discretion of the Taipei Times.