Toronto Blue Jays beat LA Angels 12-5
Edwin Encarnacion had four hits from four at-bats with a homer and four RBIs as the Toronto Blue Jays completed a thunderous three-game sweep of the Los Angeles Angels on Sunday with a 12-5 victory that vaulted them back into first place in the AL East.
The Jays' 16th victory in 19 games, coupled with the Yankees' 4-3 loss to Cleveland, put Toronto atop the division for the first time since Aug. 13.
R.A. Dickey (8-10) won his fifth straight decision over seven starts, despite allowing five runs and 11 hits in six innings.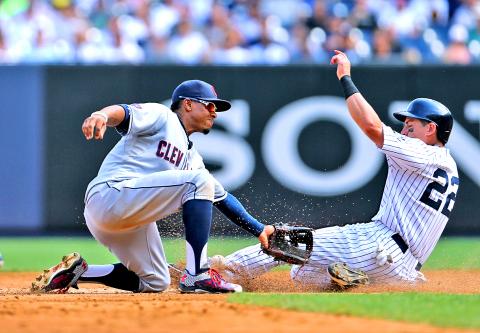 The New York Yankees' Jacoby Ellsbury, right, steals second base as the Cleveland Indians' Francisco Lindor drops the ball in the third inning of their game at Yankee Stadium in New York on Sunday.
Photo: USA Today
The Angels' Garrett Richards (12-10) was charged with nine runs and 10 hits in five-plus innings.
INDIANS 4, YANKEES 3
In New York, Francisco Lindor homered off Dellin Betances in the eighth, Trevor Bauer threw 6-1/3 strong innings and C.C. Sabathia exited with an injury as Cleveland beat New York on Andy Pettitte Day in the Bronx.
Carlos Santana homered off Sabathia for the Indians, who have won five of their last six games at Yankee Stadium. Sabathia departed in the third inning with right knee pain.
Lindor's homer, the rookie's second blast in two games, came moments after Carlos Beltran hit a game-tying double off reliever Bryan Shaw (2-2) in the seventh.
CARDINALS 10, PADRES 3
In San Diego, California, Michael Wacha pitched six solid innings and Stephen Piscotty homered twice and drove in five runs to help the St Louis Cardinals avoid a three-game sweep.
Jason Heyward had three hits as St Louis averted getting swept for the first time this season.
Wacha (15-4) got his fourth straight win, allowing one run and four hits while striking out three and walking two.
San Diego made two errors in the first inning and the Cardinals capitalized with three hits, including Piscotty's two-run triple.
In other results, it was:
‧ Mariners 8, White Sox 6
‧ Athletics 8, Rays 2
‧ Mets 5, Rockies 1
‧ Twins 4, Orioles 3, 12 innings
‧ Cubs 9, Braves 3
‧ Astros 3, Dodgers 2, 10 innings
‧ Royals 8, Red Sox 6
‧ Nationals 9, Brewers 5
‧ Rangers 4, Tigers 2
‧ Diamondbacks 4, Reds 0
‧ Phillies 2, Marlins 0
‧ Pirates 5, Giants 2
Comments will be moderated. Keep comments relevant to the article. Remarks containing abusive and obscene language, personal attacks of any kind or promotion will be removed and the user banned. Final decision will be at the discretion of the Taipei Times.