McCaw calls retirement scary, rules out politics
All Blacks captain Richie McCaw said the prospect of retirement scares him "a little bit," but he is not yet certain he will end his international career after this year's Rugby World Cup.
The 34-year-old McCaw became the world's most-capped Test rugby player when he made his 142nd appearance for New Zealand in their 41-13 win over Australia on Saturday.
That Test was believed to be McCaw's last for the All Blacks in New Zealand and he is expected to retire after leading New Zealand's World Cup defense in Britain, starting next month.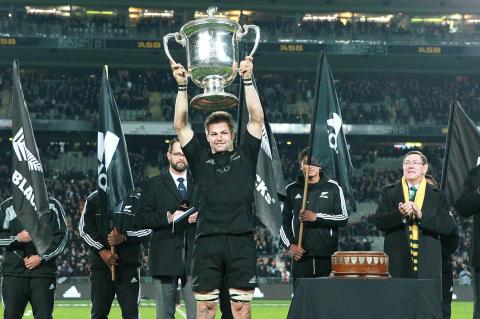 New Zealand's Richie McCaw lifts the Bledisloe Cup after his side's victory over Australia at Eden Park in Auckland on Saturday.
Photo: AFP
However, McCaw told the New Zealand Herald in an interview published yesterday that he has not yet firmly made up his mind to retire.
"I have not shut the door totally, because I was not sure how I would feel come the end of October and I really wanted to make sure I did not get caught up in the 'it is your last game here, last game there' stuff," McCaw said.
"The door is open a little bit, but I just want to concentrate on what I am doing now and get a bit of separation after the World Cup," he added.
McCaw said that after playing international rugby since 2001, "part of [retiring] scares you a little bit."
"I have done the same thing for so many years," he said. "To all of a sudden be having to figure out something else to do is a bit daunting."
"Conversely, a lot of people at this age change careers. It is a big decision that they do not have to make, but they choose to. The only difference is it comes to us whether we want to or not," he added.
McCaw said that his playing career "was always going to come to an end at some point."
"When that comes there will be something else I am sure — it is a bit of a double-edged one really. There is no doubt when you start having to watch a few games, I will miss it like hell," he said.
McCaw has ruled out a career in politics.
New Zealand Prime Minister John Key on Monday said that he would again offer McCaw the knighthood he declined after leading New Zealand to victory at the 2011 World Cup.
Key also said that McCaw would make a great future prime minister.
However, McCaw said politics is not for him ... at this stage.
"No, no. I have got to say, I do not think that would be for me," McCaw said.
"I am probably like everyone and have an interest ... from afar. I would hate to get in amongst that, I reckon. I am quite happy just watching," he added.
Comments will be moderated. Keep comments relevant to the article. Remarks containing abusive and obscene language, personal attacks of any kind or promotion will be removed and the user banned. Final decision will be at the discretion of the Taipei Times.