Rogers confirms retirement after Ashes
HEAD ISSUES: With more than 24,000 first-class runs to his name, the left-hander said he was not 100 percent sure about retiring, but that injuries played a part in his decision
Chris Rogers is retiring from international cricket after this week's Ashes finale against England, the Australia opener announced yesterday.
The 37-year-old joins Australian captain Michael Clarke in retiring from international cricket after the fifth Test.
"I have had an amazing couple of years playing for Australia, and enjoyed it and been part of some pretty special things, but everything comes to an end," Rogers said.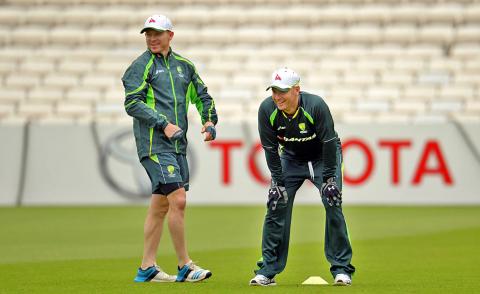 Australia's Chris Rogers, left, and Michael Clarke take part in a training session at The Oval in London yesterday.
Photo: Reuters
England wrapped up the Ashes with victory in the fourth Test that put them 3-1 up in the five-match series.
Yesterday's confirmation comes after Rogers had suggested it was his plan to make The Oval in London his international swansong in what is to be his 25th career Test.
Rogers, who has more than 24,000 first-class runs to his name, made his Test debut in 2008, but did not win his second cap until the start of the 2013 Ashes — at the age of 35.
The determined left-hander has since scored five Test centuries, most recently in Australia's only victory of this Ashes series at Lord's.
Rogers suffered a dizzy spell in the second Test at Lord's in London and was forced off the field on 49 in Australia's second innings.
Medical tests revealed the injury was related to a balance problem in the inner ear caused when Rogers was hit on the helmet by a James Anderson bouncer during his Test-best 173 in the first innings.
Despite injury doubts he was able to play in the next Test at Edgbaston in Birmingham, England.
Explaining his decision to accompany Clarke into retirement, Rogers added: "You are never 100 percent sure, but I felt like this [Test at The Oval] was the last one."
"There have been a few things, particularly the head issues lately, so I am quite happy to call it a day. It is time for Australian cricket to make a few changes and bring in a few new guys, a few fresh faces. It is going to be a challenging time, particularly for the new guys — but that is part of it," he said.
Comments will be moderated. Keep comments relevant to the article. Remarks containing abusive and obscene language, personal attacks of any kind or promotion will be removed and the user banned. Final decision will be at the discretion of the Taipei Times.