Rising Australian stars 'losing the plot'
Australia's rising tennis stars are fast earning a reputation as the new brats of the sport, with recent antics sparking stinging criticism and calls to change their ways.
Bernard Tomic, Nick Kyrgios and Thanasi Kokkinakis have been making headlines for all the wrong reasons, leaving Australian media yesterday to ask: "Are the trio of stars losing the plot because they are young, stupid or victims of their own poor judgement?"
Kyrgios has been the chief culprit, picked up by on-court microphones telling Grand Slam winner Stan Wawrinka that "Kokkinakis banged your girlfriend" at the Rogers Cup in Montreal last week that infuriated the Swiss star.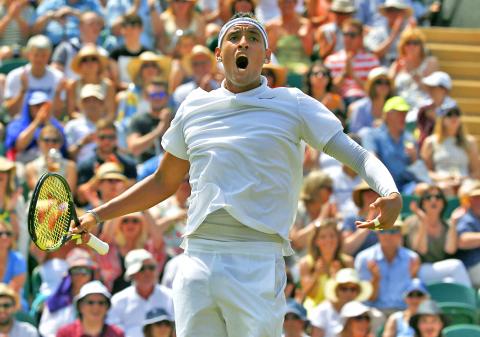 Nick Kyrgios of Australia reacts during his men's third-round match against Milos Raonic of Canada at Wimbledon in London on July 3.
Photo: Reuters
The 20-year-old Kyrgios was fined US$12,500 by the ATP Tour, which launched an investigation into the remark that could result in further action against him.
He later apologized, but not before his unsavory comment sparked fierce condemnation in the women's game, led by WTA Tour chairman Stacey Allaster, tennis legend Martin Navratilova and commentator Pam Shriver.
"The statement made by Nick Kyrgios is crude and unacceptable," Allaster said, in comments echoed by Australian media.
"The problem with the type of venomous poison Nick Kyrgios spewed last week is that it spreads like a cancer, entangling and embroiling others in its vitriol," the Australian newspaper's Courtney Walsh wrote.
He was referring to Kokkinakis almost coming to blows with Ryan Harrison in qualifying for the Cincinnati Masters at the weekend. Kokkinakis was agitated by a pair of call overrules by the umpire in 23-year-old Harrison's favor, pressing his complaints to annoy the American, who railed about "new age little kids."
"They are going to get hurt," Harrison said. "[Kokkinakis] is 19. If he wants to get into it, I will bury him. Wawrinka should have decked Kyrgios and I should deck that kid."
"I made it pretty clear that he cannot be doing that," Kokkinakis said of the brash Kyrgios, whose behavior has met with outrage before.
At Wimbledon earlier this year, Kyrgios was accused of "tanking," and he also argued with umpires and gave sarcastic answers at news conferences.
While some see his behavior as petulant and disrespectful, others view his colorful antics as good for a sport in need of characters, although he is not the only Australian to raise hackles.
Tomic, 22, was most recently in the headlines over his arrest in Miami last month for failing to follow police orders over a raucous penthouse party.
It came on the eve of Australia's ultimately successful Davis Cup quarter-final tie against Kazakhstan, from which Tomic was dumped after an earlier tirade against Australian tennis administrators.
While Australia boasts a rich history of quality players, including Rod Laver, Ken Rosewell, Pat Rafter and Margaret Court, Lleyton Hewitt was also a loose cannon in his youth, once labeling a match official at the French Open a "spastic."
He eventually matured and is now the elder statesman many feel could get the current young guns back on track, particularly in his new role as Kyrgios' coach.
In comments reported by Australian media, Shriver said: "Channel your inner Laver, Rosewell, [Tony] Roche, Rafter. Bring the class again."
Comments will be moderated. Keep comments relevant to the article. Remarks containing abusive and obscene language, personal attacks of any kind or promotion will be removed and the user banned. Final decision will be at the discretion of the Taipei Times.