Tokyo Olympic logo designer faces fresh plagiarism claims
The designer of Tokyo's 2020 Olympics logo said yesterday he has withdrawn some designs created for drinks giant Suntory in the wake of fresh plagiarism allegations.
The move came just over a week after under-fire designer Kenjiro Sano described claims that he stole the design for his Olympics emblem as "completely baseless."
"There are online claims that there might be copyright problems ... and our client Suntory and other relevant people have received questions" about it, Sano's office said in a statement.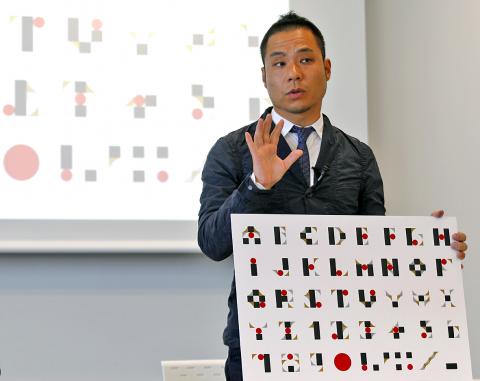 Designer Kenjiro Sano speaks at a press conference in Tokyo on Aug. 5.
Photo: AP
"Given the situation, we asked that some designs be withdrawn," it said.
The company, one of Japan's biggest beverage firms, has said that it would stop shipment of certain bags that were part of a promotional campaign for non-alcoholic beer.
The bags with some of Sano's designs — including a French baguette and an opened book — have come into question.
Others that were not withdrawn include a slice of watermelon, an umbrella, a bird and a pair of sunglasses.
"These designs are based on ideas and motifs in everyday life, but we have started looking into the claims with the help of experts," Sano's office said.
The retraction comes as a Belgian designer said last week he would take the International Olympic Committee (IOC) to court over use of the design for the 2020 Tokyo Games which he claims was plagiarized from his work.
Sano earlier this month rejected the allegation, saying he was "convinced this is a piece that has no parallel in the world."
The IOC and the Tokyo Games organizers have also dismissed the claims, and said designer Olivier Debie did not have a trademark on the emblem he made for a theater in the eastern Belgian city of Liege.
Comments will be moderated. Keep comments relevant to the article. Remarks containing abusive and obscene language, personal attacks of any kind or promotion will be removed and the user banned. Final decision will be at the discretion of the Taipei Times.