IOC heaps praise on Rio preparations
PRESSING ON: Evaluation Commission head Nawal El Moutawakel said although there is a 'political and economic' crisis in Brazil, test events for the Games would continue
The head of an International Olympic Committee (IOC) inspection team on Wednesday said she expects Rio de Janeiro to "deliver outstanding Olympic Games" next year, lauding the "Olympic atmosphere and Olympic spirit" in Brazil's showcase city.
Nawal El Moutawakel, ending a week in Rio, gave a glowing assessment of the city's progress, despite being peppered at a news conference with numerous questions about severe water pollution in Rio, concerns over political unrest in Brazil and the nation's slumping economy.
The IOC's assessment of Rio's preparation has gone in 18 months from "the worst in recent history" to "excellent," a word El Moutawakel used frequently in praising Rio's organizers and several test events held over the past few days.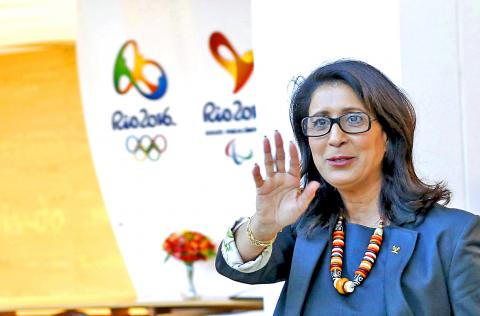 International Olympic Committee Evaluation Commission head Nawal El Moutawakel waves after a news conference in Rio de Janeiro on Wednesday.
Photo: Reuters
"They [test events] show the organizers' capacity to deliver outstanding Olympic Games next year," El Moutawakel said.
She also warned organizers about complacency with the Aug. 5 opening ceremony looming.
"From now on until the Games, a tremendous amount of planning work remains to be completed," she said. "With the state-of-the-art venues starting to be delivered, it is now about dealing in a timely manner with millions of operational details."
El Moutawakel, an Olympic gold-medal hurdler from Morocco, was effusive in her praise of an equestrian test event she attended last week and said the finish line for organizers was in sight.
"I was very happy to see the level, the readiness and preparation by each and everyone involved," she said. "I was so proud of you, seeing and working with Rio 2016 for six years, and I could not believe we are almost at the end."
Despite El Moutawakel's upbeat mood, the news conference was dominated by questions about Rio's sewage pollution.
An independent analysis by The Associated Press of water quality released two weeks ago showed high levels of viruses and, in some cases, bacteria from human sewage in all of Rio's Olympic and Paralympic water venues.
This includes the Rodrigo de Freitas Lagoon, where rowing and canoeing are to take place; Guanabara Bay, where the sailing competitions are to be held; and at Copacabana Beach, where distance-swimming and triathlon events are to take place.
The IOC said it had ruled out viral testing and said it would stick to WHO guidelines, which recommend only bacterial testing — the bare minimum.
"WHO is very clear that bacterial testing is what should be followed," Olympic Games executive director Christophe Dubi said. "They have restated that bacterial testing is the measure that has to be used and will continue to be used by the authorities ... It is the best measure to be used."
In two separate e-mailed statements following the publication of the AP study, the WHO said it was advising the IOC "to widen the scientific base of indicators to include viruses."
However, in an e-mailed statement on Monday, the organization backed off, saying: "WHO has not and will not issue an official recommendation on viral testing."
There were also questions about Brazil's slumping economy, and Brazilian President Dilma Rousseff, whose popularity has fallen to single digits.
At least one member of the inspection team said funding from the federal government was a concern during talks with Brazilian government and organizing committee officials.
Brazil is spending about US$11 billion in public and private money to organize the Games and has been hit in recent months as the value of the local currency has fallen sharply against the US dollar.
Organizers have also been criticized for focusing the heart of the Games on the western suburb of Barra da Tijuca, where real-estate prices have soared and local builders and developers have prospered.
"We are aware of what the country is going through," El Moutawakel said.
A nationwide anti-government protest on Sunday has forced Rio organizers to re-route a cycling test event and change the starting time.
"Although there is a crisis, a political and economic one, the test event will continue," El Moutawakel said.
Sidney Levy, chief executive officer of the organizing committee, said the federal government was taking over full responsibility for security and energy.
Government officials have reported previously that 85,000 soldiers, police and private guards will provide Olympic security in Rio, a city known as much for its street crime as samba and soccer.
"We're pretty confident they [the federal government] will be able to provide everything we need," Levy said.
Comments will be moderated. Keep comments relevant to the article. Remarks containing abusive and obscene language, personal attacks of any kind or promotion will be removed and the user banned. Final decision will be at the discretion of the Taipei Times.