Greinke gives up six runs, but LA Dodgers still win
Zack Greinke was three for three with a homer to offset his worst start in three years as the Los Angeles Dodgers beat the Philadelphia Phillies 10-8 on Thursday.
Greinke (11-2) gave up five runs before getting an out, finishing with six runs allowed and seven hits in six innings, but he helped himself at the plate and Adrian Gonzalez hit a three-run homer to pace the National League West leaders.
The six runs equaled the total Greinke gave up in his previous nine starts combined. He had a scoreless streak of 45-2/3 innings during that span.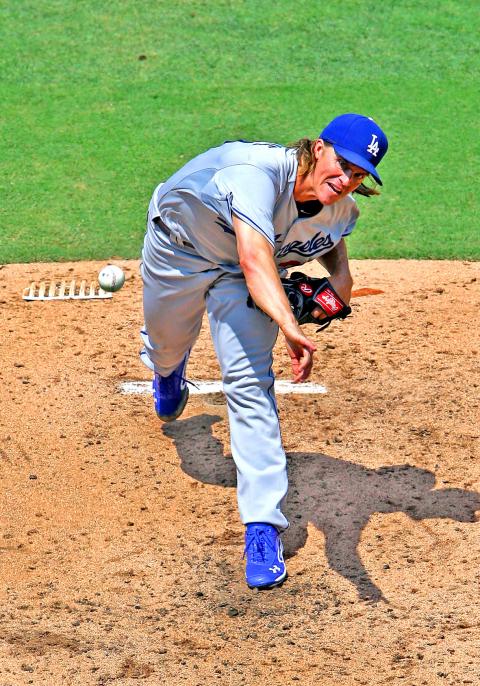 Zack Greinke of the Los Angeles Dodgers pitches to the Philadelphia Phillies in their National League game in Philadelphia, Pennsylvania, on Thursday.
Photo: AFP
Greinke had not allowed six earned runs since Aug. 19, 2012, when he gave up six for the Angels at Tampa Bay.
Greinke's ERA rose from 1.41 to 1.71. His batting average went from .170 to .220.
Kenley Jansen got two outs for his 21st save in 22 chances.
Domonic Brown hit a three-run homer for the Phillies.
David Buchanan (2-6) lasted four innings, giving up seven runs and 10 hits.
CUBS 5, GIANTS 4
In Chicago, rookie bopper Kyle Schwarber homered in his second consecutive game as Chicago beat San Francisco to move a half-game ahead of the Giants in the race for a National League wild card.
The Cubs, playing meaningful baseball in August for the first time in years, won for the seventh time in eight games.
Jorge Soler hit a two-run single in the first inning and Schwarber made it 5-0 with a three-run drive off Chris Heston (11-6) in the second, but instead of an easy win, the Cubs had to hang on.
San Francisco's Brandon Belt hit a two-run homer off Jason Hammel in the fourth inning and Brandon Crawford added another off Tommy Hunter in the sixth to make it 5-4.
Jason Motte and Pedro Strop each worked a scoreless inning for the Cubs. Hector Rondon pitched the ninth for his 17th save in 20 chances.
The Giants lost for just the sixth time in 22 games.
Winning pitcher Justin Grimm (2-3) got out of a jam in the fifth.
YANKEES 2, RED SOX 1
In New York, Jacoby Ellsbury hit a tiebreaking homer to snap out of a slump and C.C. Sabathia pitched six gritty innings after leaving his previous outing with dehydration, leading New York over Boston.
Alex Rodriguez had an RBI double and Justin Wilson (4-0) struck out three batters in the seventh inning to help the Yankees take two of three from the Red Sox.
Andrew Miller put two on in the ninth, but struck out Rusney Castillo to remain perfect in 24 save chances.
Ellsbury connected with two outs in the seventh off 22-year-old Eduardo Rodriguez (6-4).
Thursday's other results:
‧ Blue Jays 9, Twins 3
‧ Cardinals 3, Reds 0
‧ Tigers 8, Royals 6
‧ Nationals 8, Diamondbacks 3
‧ Astros 5, Athletics 4, 10 innings
‧ Brewers 10, Padres 1
‧ Braves 9, Marlins 8
Comments will be moderated. Keep comments relevant to the article. Remarks containing abusive and obscene language, personal attacks of any kind or promotion will be removed and the user banned. Final decision will be at the discretion of the Taipei Times.