Lochte makes history, Ledecky wins her fourth gold
Ryan Lochte wrote himself into the history books on Thursday, while Katie Ledecky won her fourth gold at the world championships to cap a great night for the US.
Lochte's victory in the 200m individual medley final saw him become the first swimmer to win four consecutive world championships in the event.
"It's something I'll remember for the rest of my life," Lochte said.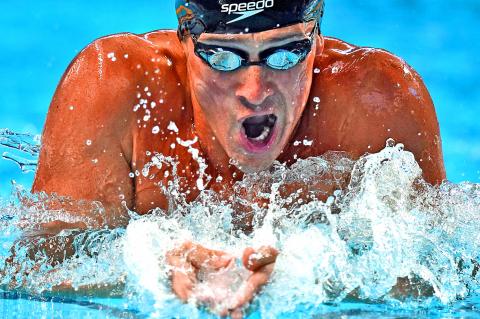 Ryan Lochte of the US competes in the final of the men's 200m individual medley at the FINA World Championships in Kazan, Russia, on Thursday.
Photo: AFP
He now has 16 gold medals at world championships dating back to 2005.
Australia's Grant Hackett is the only other swimmer to have won four consecutive world titles in a single event, having achieved the feat in the 1,500m freestyle between 1998 and 2005.
"It would have to be a toss up between this, it's the coolest thing to make history in any sport, or 2011, when I broke the world record," Lochte said when asked if it was the best moment of his illustrious career.
Lochte revealed US star Michael Phelps, who was sanctioned from taking part in Kazan, told him to take leadership of their nation's team via a text message.
The 31-year-old Lochte produced a commanding display to win his final, and both butterfly expert Camille Adams and breaststroker Micah Lawrence said Lochte's victory had inspired them to finish second in their following races.
Ledecky then anchored the US women's 4x200m freestyle relay victory.
The US finished the night with two golds and Adams' silver in the women's 200m butterfly to move up to second in the overall medals table behind China.
The 18-year-old Ledecky had already won the 200m, 400m and 1,500m freestyle golds in Kazan and still had the 800m heats yesterday morning, with the final scheduled for today.
After Missy Franklin swam a strong first leg in the relay, Ledecky dived in with the US slightly behind Sweden, but she put plenty of clear water between her team's rivals to win by a clear margin.
Ledecky, who holds the world records for the 400m, 800m and 1,500m freestyle, has had an outstanding campaign in Kazan and has twice broken her own 1,500m record.
"There's only one word I can use to describe Katie Ledecky — 'phenomenal,'" Lochte said. "It seems whenever she sets foot in the water she either wins gold or breaks a world record — she's a beast. She got Team USA on a roll and we have to carry on that momentum."
It was also a good night for Asia as Ning Zetao became China's first 100m freestyle world champion, while Fu Yuanhui won women's 50m backstroke gold with fellow 19-year-old Liu Xiang earning bronze for China.
Japan's Natsumi Hoshi won the women's 200m butterfly gold to add to her 2012 Olympic bronze in the event, while 17-year-old Zhang Yufei of China swam a new world junior record to take bronze.
Comments will be moderated. Keep comments relevant to the article. Remarks containing abusive and obscene language, personal attacks of any kind or promotion will be removed and the user banned. Final decision will be at the discretion of the Taipei Times.