Farah to continue working alongside Alberto Salazar
Britain's double Olympic champion Mo Farah is to continue working with Alberto Salazar despite the doping allegations surrounding his coach, the athlete said on Friday.
"Although it's been a difficult time, I asked Alberto to respond to the allegations made against him and he has now done so in full," Farah said in a statement posted on Facebook.
"As someone I've worked with for many years, I feel I have to believe in Alberto and the evidence he has provided," added Farah, the 5,000m and 10,000m gold medalist at the 2012 London Olympics. "Based on that evidence, I will continue to work with him and hope now that I can focus on what I do best — training hard to win medals for my country."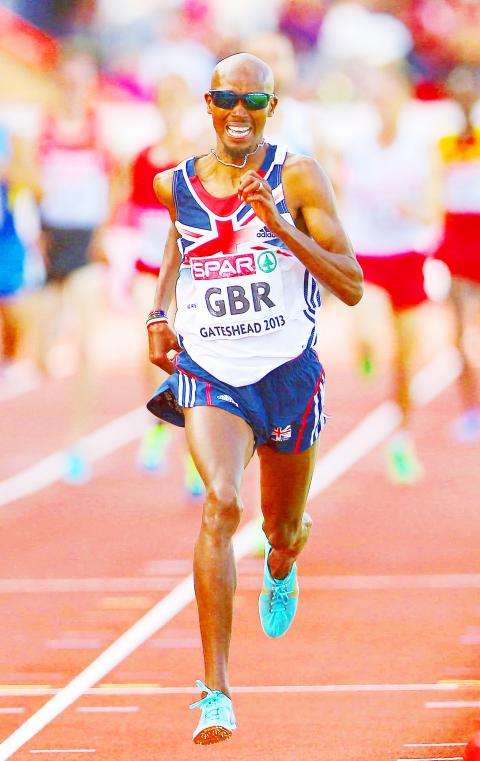 Britain's Mo Farah wins the men's 5,000m event at the European Athletics Team Championships at Gateshead Stadium in Newcastle, England, on June 22, 2013.
Photo: AFP
Wednesday saw Salazar, who trains several athletes at the Nike Oregon Project, issue a public statement in which he denied the allegations contained in a BBC television documentary.
"I will never permit doping," said the Cuban-born 56-year-old, a three-time New York Marathon champion.
The BBC alleged earlier this month that Salazar had violated anti-doping rules, with claims he had doped US distance runner Galen Rupp, a training partner of Farah, in 2002 with the anabolic steroid testosterone when Rupp was only 16 years old.
Farah has not been accused of any doping violations, although the Daily Mail reported he had missed two drug tests in the run-up to the 2012 London Olympics.
UK Anti-Doping rules state an athlete who misses three tests in any 12-month period (reduced from 18 months since 2013) can face a ban of up to four years.
One of Britain's top sports stars, Farah said he had been emotionally and physically drained by the allegations, and pulled out of the Birmingham Diamond League meet on June 7, three days after the documentary was first aired.
He is now due to return to the track in the 5,000m at the Diamond League meeting in Lausanne, Switzerland, on July 9 and is also scheduled to enter the following week's event in Monaco, France.
UK Athletics (UKA), the national governing body for the sport in Britain, currently conducting their own inquiry into the allegations against Salazar, said it respected Farah's decision.
"British Athletics note and respect Mo Farah's decision to continue his coaching relationship with Alberto Salazar," UKA chief executive Niels de Vos said.
"As is normal at this time of the year, Mo is currently training at altitude under the guidance of British Athletics as he prepares for the August defense of his world titles in Beijing. As has always been the case, British Athletics will continue to take responsibility for all nutritional, medical and sport science elements of Mo Farah's training regime," De Vos added.
UKA chairman Ed Warner said: "Our independent review will continue, and will report its findings and recommendations, as previously announced in early August."
Comments will be moderated. Keep comments relevant to the article. Remarks containing abusive and obscene language, personal attacks of any kind or promotion will be removed and the user banned. Final decision will be at the discretion of the Taipei Times.