Chinese-born women sweep table tennis
Chinese-born players won gold, silver and bronze in the women's singles table tennis at the inaugural European Games in the Azeri capital of Baku on Friday.
Jiao Li, 42, prevailed 4-0 in an all-Dutch final against Jie Li, while Melek Hu beat Slovakia's Eva Odorova 4-1 to win bronze for Turkey.
The Dutch pair also claimed silver in the team event earlier in the Games.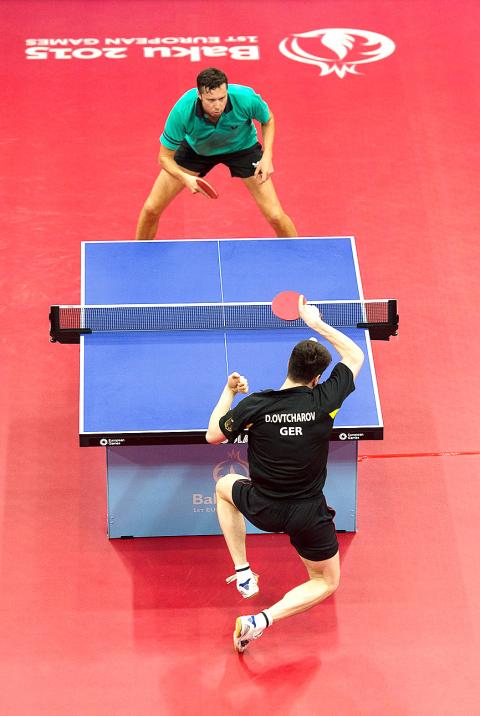 Germany's Dimitrij Ovtcharov returns to Vladimir Samsonov of Belarus during their men's singles table tennis final at the European Games in Baku on Friday.
Photo: EPA
"I told Jie: 'No matter how tired we are, we can't make a fool out of ourselves in the singles,'" Jiao Li told reporters at the Baku Sports Hall.
"We're very close friends, but I knew I had to think about the match if I wanted to win," she said. "Now that it's over, we can be friends again."
Jiao Li's gold medal also secured her qualification for the Rio de Janeiro Olympic Games next year.
"It means a lot less anxiety and energy spent, knowing that I've qualified," she said.
In the men's singles, Germany's Dimitrij Ovtcharov beat Belarusian Vladimir Samsonov 4-3, while Chinese-born Lei Kou won bronze for Ukraine with a 4-2 win against Britain's Paul Drinkhall.
Earlier in the Games, Ovtcharov was in the German side who lost the bronze-medal match to Austria in the teams event.
After collecting the singles gold, he criticized the format for the team competition.
"It is ridiculous to play with two players," he said. "We lost through strange regulations that I hope will be changed in the future."
Drinkhall, ranked 22 in Europe, was a surprise finalist and said that despite losing 4-2 and leaving Baku empty-handed, the sport had a bright future in Britain.
"It's been a great 12 months for us and I think it's only a matter of time before we really take off and do something," said Drinkhall, who won the mixed doubles gold medal at the Glasgow Commonwealth Games last year alongside his wife, Joanna.
A marathon final game featuring a string of breathtaking rallies finished 22-20, the longest of the tournament, in favor of the Ukrainian.
Comments will be moderated. Keep comments relevant to the article. Remarks containing abusive and obscene language, personal attacks of any kind or promotion will be removed and the user banned. Final decision will be at the discretion of the Taipei Times.