A-Rod hits 3,000th
RECOVERY: New York Yankees manager Joe Girardi said that Alex Rodriguez's return to greatness was a good example of the power of redemption in sports
A humbled Alex Rodriguez crowned a season of milestones with his 3,000th career hit on Friday and thanked the Yankees and manager Joe Girardi for the chance to come back and play this season.
Rodriguez, who is turning 40 next month and was banned the entire season last year for violating Major League Baseball's doping policy, became the 29th player ever to reach 3,000 hits. The slugger did so fittingly with his 13th home run of the season.
"A year ago today I didn't know if this day would ever come," he said after the 7-2 victory over the Detroit Tigers.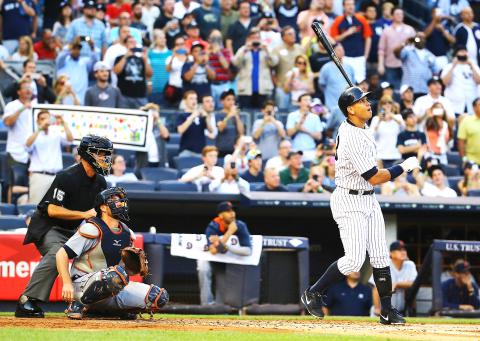 The New York Yankees' Alex Rodriguez watches his 3,000th career hit as it sails out of the ballpark in the first inning of their game against the Detroit Tigers at Yankee Stadium in New York on Friday.
Photo: AFP
"There were some really dark days. I got to tell you I'm really grateful for Joe Girardi. He's given me every opportunity," Rodriguez said.
"I'm grateful. I'm extremely appreciative to the Yankees for giving me an opportunity to put the uniform back on," he said.
A-Rod's return was primarily a business decision, as the team owed him US$64 million for the last three years of a contract that had made him MLB's highest paid player.
However, Rodriguez has made the Bronx Bombers happy to have him, as he has exceeded all expectations at the plate and helped the Yankees (37-30) contend in the American League East.
"We're very excited for him, happy for him," Girardi said. "The guys, you could see the emotion."
After clobbering the first pitch he saw from Detroit's Justin Verlander, teammates greeted him with hugs in front of the dugout as the crowd of nearly 45,000 roared.
"I just think it shows you how much our guys pull for Alex," the manager said. "He's worked hard and never stopped believing in himself."
Yankees catcher Brian McCann was thrilled to have witnessed the achievement by Rodriguez, who this season has also moved up to fourth on both the all-time home run and RBI rankings.
"What an amazing accomplishment," McCann told a pair of reporters in the clubhouse.
"He's one of the best players to ever put on a uniform, to ever pick up a bat and play the game. He's one of the best players to ever play the game," McCann said.
Girardi said Rodriguez's comeback underlined the power of redemption in sports.
"People get second and third chances, and people really pull for people to do well and get off the carpet and respond and be productive, and that's what he's doing," Girardi said.
In other games on Friday, it was:
‧ Nationals 4, Pirates 1
‧ Pirates 1, Nationals 4
‧ Cardinals 12, Phillies 4
‧ Blue Jays 5, Orioles 4
‧ Rays 4, Indians 1
‧ Reds 5, Marlins 0
‧ Braves 2, Mets 1
‧ Red Sox 7, Royals 3
‧ Rangers 2, White Sox 1
‧ Twins 7, Cubs 2
‧ Brewers 9, Rockies 5
‧ Angels 12, Athletics 7
‧ Diamondbacks 4, Padres 2
‧ Mariners 5, Astros 2
‧ Giants 9, Dodgers 5
Comments will be moderated. Keep comments relevant to the article. Remarks containing abusive and obscene language, personal attacks of any kind or promotion will be removed and the user banned. Final decision will be at the discretion of the Taipei Times.