Filipinos box clever to emulate Pacquiao
Ed Picson can justifiably feel proud of his work at the Southeast Asian Games this week after the executive director of the Association of Boxing Alliances in the Philippines (ABAP) witnessed his 10-strong team of fighters all take home medals from Singapore.
Tasked with finding the archipelago's generation next, Picson was brimming with pride as his country's boxers cut a swathe through the region's best pugilists to top the medal table with five golds, three silvers and two bronzes.
"I am very happy with our performance this week," a beaming Picson said in the shadow of the Expo Hall grandstand, where his nation's fans cheered on their favorite fighters. "We brought 10 boxers here, mandated by the rules, that is six men and four women. Eight of them reached finals and the two that didn't will go home with bronze medals, so we couldn't ask for more."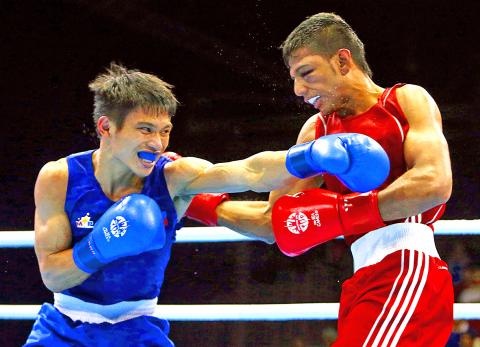 Ian Bautista, left, of the Philippines fights Mohamed Hanurdeen Hamid of Singapore in the men's flyweight 52kg final bout at the 28th Southeast Asian Games in Singapore on Wednesday. Bautista won the gold medal.
Photo: EPA
"The SEA Games is very crucial when you experience the groundswell of support for athletes in this regional competition and it gives you a sense of being on the international stage," he added. "It's very important for them to be exposed ... to be in such competitions with a high profile so that when we are in the bigger tournaments ahead they won't feel so anxious."
The name Manny Pacquiao is synonymous with boxing in the Philippines, the eight-weight division world champion having shaped the landscape of the sport in the country for almost two decades.
Picson believes it is a positive influence.
"Manny Pacquiao inspires everybody in the Philippines, especially boxers," he said. "He's a member of our board, by the way, a director of the ABAP. He's very supportive, he talks about the boxers and talks to them whenever there's an opportunity and obviously the boys and girls look up to him. They are very proud that when we are in far-flung countries like Uzbekistan or Mongolia and when they see us wearing Philippine jackets or shirts, invariably they address us as 'Pacquiao.' Yes, they are big shoes to fill, but we're proud of the association and we would like to be able to show him that he has inspired our boxers."
One such boxer inspired by Pacquiao was welterweight gold medalist Eumir Felix Marcial, a junior world champion from 2011, who claimed a knockout victory with a devastating left hook to the jaw of Singapore's Jie Wei Tay in their bout.
The 19-year-old looks every inch a world-class boxer in the making, his excellent ringcraft, balanced footwork, devastating power and southpaw stance ensuring he emulates his "idol" in more ways than simply their shared nationality.
"We are hoping our fighters can step up and create names for themselves in the international arena. This group we have is a very potent one," Picson added. "Our average age is 23 and that includes three who are 28 or 29, but it is the young ones we are banking on to make a splash on the international scene. We are very optimistic and Marcial is one of those we expect a lot from."
Picson remains confident boxing in his homeland can withstand the rising popularity of mixed martial arts, believing those who start off in his sport tend to remain loyal.
"Boxing has been ingrained in the Filipino mindset for decades or maybe even centuries," he said. "It has always been a sport Filipinos love and I don't think that the rise of MMA will affect it. As a general rule, people will start with boxing and hopefully, most of those who start with the sport will continue."
Picson hopes that the SEA Games success will now give his young fighters a platform to move on to bigger and better things, but says it can sometimes be difficult for up-and-coming athletes in the Philippines to gain recognition.
"Aside from Pacquiao, it's sad to say that other world-ranked boxers did not get the attention they deserve. Hopefully, that will change because the usual process is 'win first then we support you,' but I think that is a backwards way of doing it," he added. "You need to support those who are on the way up, not those who are already there, because they don't need it."
Comments will be moderated. Keep comments relevant to the article. Remarks containing abusive and obscene language, personal attacks of any kind or promotion will be removed and the user banned. Final decision will be at the discretion of the Taipei Times.