England need Ford and Farrell, Wilkinson says
The battle between George Ford and Owen Farrell for the England No. 10 shirt is already one of the Rugby World Cup's big talking points, but the man who every red-rosed flyhalf is measured against thinks both men have a part to play.
Jonny Wilkinson, whose extra-time drop-goal in the 2003 final spurred England to victory in the sport's showpiece, is watching this year's tournament as a fan, having played in the previous four.
The focus of his attention is his old position, where young guns Ford, 22, and Farrell, 23, are fighting for the starting slot.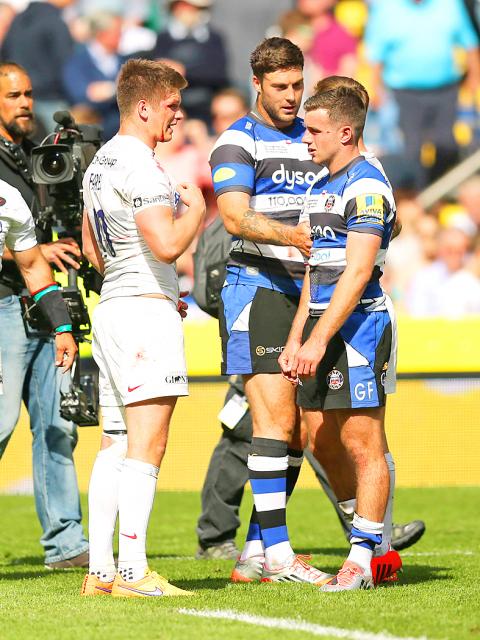 Owen Farrell, left, of Saracens and George Ford, right, of Bath speak at the end of the English Premiership final on May 30 at Twickenham Stadium in London, England.
Photo: Reuters
Farrell appeared to be a sure bet until a knee injury ruled him out of this year's Six Nations and Ford grasped his opportunity with such aplomb that it is now Farrell on the outside looking in.
"You can't overestimate how tough it is mentally and emotionally to deal with being there and then having an injury and someone coming in and playing so well," said Wilkinson, whose career was littered with setbacks, when launching the World Cup's "100 days to go" celebration on Wednesday. "It's not one of those where you are thinking: 'Oh, he's had a good game, but I'll be back next week,' because you've got a long injury.' Then he's had another good game and he's playing brilliantly."
Wilkinson thrived on the challenge of forcing his way back into the team and thinks the battle between the two former schoolboy rugby league rivals will spur both on and ultimately benefit their country.
"For Owen, the question was what does he do about it? You say: 'I'm going to finish my season, take all the pressure and come back strong,'" Wilkinson added. "For George, he's got that challenge to say: 'Well hold on, what am I going to do now people are asking questions?'"
If you are only as good as your last game, then it is Farrell who will be enjoying his few weeks' rest after scoring 18 points in Saracens' impressive victory over Ford's Bath in last month's English Premiership final.
"What a brilliant way to finish, with the two guys squaring off," Wilkinson said. "They're two really good guys, different players. Owen has got that sturdiness that brings confidence to the boys around him."
"George has got that subtle touch that shows he's very aware of how to manipulate any situation with the ball in his hand in attack and with his tactical kicking. They are both also getting down the path of managing games," Wilkinson said. "I don't know if it's a horses-for-courses affair for the World Cup, but I think they're both going to feature. Maybe there will be a time when you're going to have to pick one over the other and it may come down to which team they're playing against."
There might, of course, be room for both, as the inside center berth remains very much up for grabs and Wilkinson is a big advocate of slipping another established flyhalf into that position.
"I've enjoyed some of my best rugby playing alongside guys like Mike Catt, Paul Grayson and Matt Giteau, or Matt Burke, even though he was a [No.] 15 he used to play like a [No.] 12, a communicating, visionary type of player," said Wilkinson, who made his England debut as a center. "Those things for a [No.] 10, you can't overestimate the power that gives you. A second set of eyes that is helping you make decisions when you have so little time."
Comments will be moderated. Keep comments relevant to the article. Remarks containing abusive and obscene language, personal attacks of any kind or promotion will be removed and the user banned. Final decision will be at the discretion of the Taipei Times.