Giants shut out Mets in 5-0 victory
PITCHING-RICH: Rookie Chris Heston pitched the first no-hitter of the season for San Francisco, who have thrown no-hitters over the past four straight seasons
Chris Heston pitched the first no-hitter in the majors this season in his 13th career start, leading the San Francisco Giants over the New York Mets 5-0 on Tuesday night.
The rookie allowed three baserunners — all on hit batters. He also had a two-run single for his first big league RBIs and finished with two more hits than the Mets.
The pitching-rich Giants have thrown a no-hitter in four straight seasons, with Heston following Matt Cain's perfect game against Houston in 2012 and hitless gems by Tim Lincecum in 2013 and last year.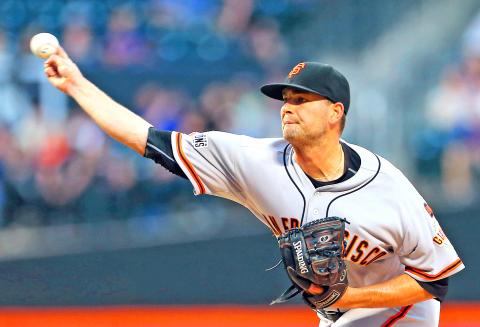 The San Francisco Giants' Chris Heston delivers a pitch against the New York Mets in the second inning of their game at Citi Field in New York on Tuesday.
Photo: Adam Hunger-USA TODAY
The only other team to accomplish that feat were the Los Angeles Dodgers from 1962 to 1965, according to STATS. Hall of Famer Sandy Koufax pitched all four of those.
Heston (6-4) struck out 11 — six looking — for the defending World Series champions and allowed just two balls into the outfield.
As the crowd of 23,155 gave Heston a standing ovation at Citi Field, Giants teammates came out of the dugout and bullpen to mob him.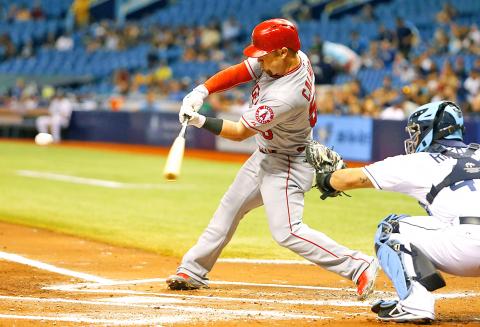 The Los Angeles Angels' Kole Calhoun hits a double in the first inning of their game against the Tampa Bay Rays at Tropicana Field in St Petersburg, Florida, on Tuesday.
Photo: AFP
Heston hit a two-run single in the fourth off Noah Syndergaard (2-4) and added another single in the eighth.
ANGELS 8, RAYS 2
In St Petersburg, Florida, Albert Pujols tied Mickey Mantle for 16th place on the all-time home run list and Kole Calhoun drove in four runs, a career high, as Los Angeles stopped a season-high five-game losing streak by beating Tampa Bay.
Pujols hit his 536th homer to tie the New York Yankees great, an opposite-field shot to right field on a 0-1 pitch from Nathan Karns (3-3) in the fifth inning. Pujols has eight homers in his past 11 games, and 16 overall this season.
Calhoun had an RBI double during a two-run first, a sixth-inning run-scoring single and a two-run single in a three-run eighth.
Matt Shoemaker (4-4) improved to 3-0 in three starts against Tampa Bay after allowing two runs and five hits in 6-1/3 innings.
DODGERS 3, DIAMONDBACKS 1
In Los Angeles, Howie Kendrick snapped a seventh-inning tie with a two-run single as Los Angeles defeated Arizona for their sixth consecutive win against the Diamondbacks.
The first-placed Dodgers have won eight straight and 12 of their past 13 at home against Arizona since April last year.
Robbie Ray (1-1) took the loss, giving up two runs.
ROYALS 2, TWINS 0
In Minneapolis, Minnesota, Chris Young took a no-hitter into the seventh inning and Salvador Perez homered to help Kansas City to a victory over Minnesota.
Young (5-2) left after giving up a triple to Trevor Plouffe with one out in the seventh for his only hit of the game. The 2.09m tall right-hander struck out two and walked three to bounce back from a pair of less than stellar starts.
Trevor May (4-4) gave up one run on seven hits with five strikeouts and three walks in six innings for the Twins, who managed just the one hit and have scored five runs in their past four games.
In other results, it was:
‧ Yankees 6, Nationals 1
‧ Reds 11, Phillies 2
‧ White Sox 4, Astros 2
‧ Blue Jays 4, Marlins 3
‧ Brewers 4, Pirates 1
‧ Rockies 4, Cardinals 3
‧ Tigers 6, Cubs 0
‧ Orioles 1, Red Sox 0
‧ Mariners 3, Indians 2
‧ Rangers 2, Athletics 1
‧ Braves 6, Padres 5
Comments will be moderated. Keep comments relevant to the article. Remarks containing abusive and obscene language, personal attacks of any kind or promotion will be removed and the user banned. Final decision will be at the discretion of the Taipei Times.