Juve coach says character can help beat Barcelona
Juventus coach Massimiliano Allegri believes his team's strength of character could be the deciding factor in Saturday's UEFA Champions League final against Barcelona.
Juventus are undoubtedly the underdogs for the final in Berlin having last won Europe's elite club competition in 1996, while Barcelona have lifted the trophy three times in the last nine years.
"The greatest quality of my Juventus is that it is a team full of character, as well as being a talented team, and I believe the team has improved a lot in the awareness of their own means and that leaves me calm in preparing this final," Allegri said on Monday.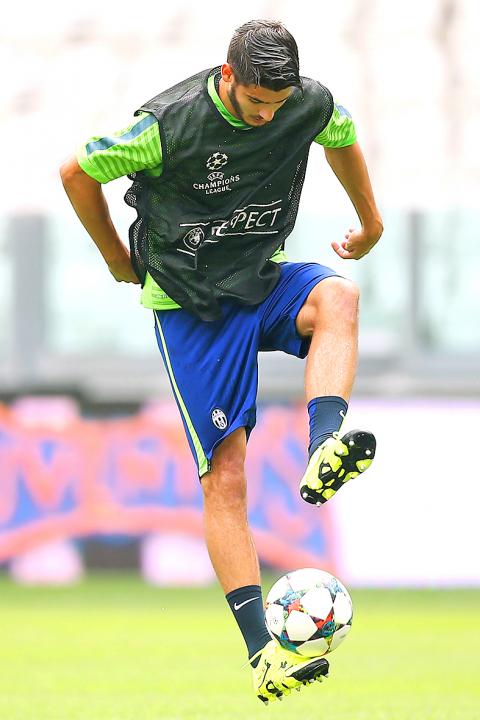 Juventus forward Alvaro Morata trains on Monday at the Juventus Stadium in Turin, Italy, ahead of their UEFA Champions League final against Barcelona.
Photo: AFP
"We just need to play and play well. We just need to do two or three things right and use this desire to show everyone that we have all the qualities and characteristics to play against this Barcelona side," he added.
Juventus were perceived by many as the weakest of the four semi-final teams, but progressed thanks to a 3-2 aggregate victory over Real Madrid — who won a record 10th European Cup crown last year.
Barcelona beat Bayern Munich in the other semi.
"The match against Real Madrid helped us because we faced an extraordinary team who are the reigning champions of Europe, but to win this final, we need to do a lot better because it was a two-legged tie against Real Madrid, while against Barcelona it is a one-off match, which could be a small advantage for us," Allegri added.
To have a chance of winning, Juventus must find a way to stop Lionel Messi, who is looking to become the first player to score in three Champions League finals.
However, Allegri was wary of focusing too much attention on Messi, who is just one part of Barcelona's fearsome attacking trio, along with Luis Suarez and Neymar.
"Man-marking Messi is practically impossible, you need to be good at working well around him," Allegri said. "Then apart from stopping Messi, they also have Neymar, Suarez, they have so many talented players, so we have to be brave as well, knowing that there will be difficult moments during the match and there will also be positive moments for us, because there will be."
"We're not going to Berlin expecting them to score goals and that we will be the sacrificial lamb. We know it will be difficult, it is a Champions League final, of course there's going to be the strongest players in the world, but that shouldn't make us anxious in the slightest," he added.
Both Barcelona and Juventus are vying to complete a treble, having each won their domestic league and cup.
"We have had an incredible season, almost never to be repeated," Allegri said. "It will be a season which goes down in history as it's rare for a team to challenge on all three fronts right to the end. Now there's one more final left and we have to be good to bring it home, and also lucky."
"It's extraordinary to have got there, now let's see if we can make this season even more extraordinary," he added.
Comments will be moderated. Keep comments relevant to the article. Remarks containing abusive and obscene language, personal attacks of any kind or promotion will be removed and the user banned. Final decision will be at the discretion of the Taipei Times.