Veteran leadership key to Lightning success
The Tampa Bay Lightning are hoping to rejoin hockey royalty after a decade-plus absence. The Chicago Blackhawks are chasing their third NHL title in six seasons.
While Steven Stamkos is downplaying the idea of youth versus experience for the Stanley Cup, the captain of the Lightning understands the challenge presented by the Blackhawks beginning with Game 1 today.
"You can see they've played together for a while," he said on Monday. "That core bunch of guys, they know where they are on the ice all the time. They've proven they can win at this time of year. They're champions for a reason. It's going to be a big mountain for us to climb."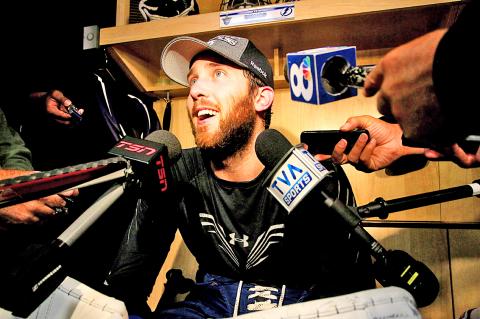 The Tampa Bay Lightning's Ben Bishop talks with the media in his stall in the Lightning locker room after practice at the Amalie Arena in Tampa, Florida, on Monday.
Photo: AP
With Stamkos and the exciting young line of Tyler Johnson, Ondrej Palat and Nikita Kucherov leading the way, the Lightning led the league in scoring this season. However, it is difficult to imagine them reaching the NHL final for the first time since 2004 without their strong veteran leadership.
The question is: Do they have enough to beat Chicago for their second Stanley Cup championship?
Stamkos thinks so.
"They're a great team ... and they do have experience. That never hurts," he said. "But we've got some guys who have been in this situation, as well. Obviously not as many guys who have won a Cup. But you have to get to this point to gain experience."
"There were not a lot of guys who had Game 7 experience before, now everyone does. Not a lot of guys who had been to the conference finals and won, now we do," Stamkos added. "We have to build somewhere and start somewhere, and we're excited about this group. We realize the talent and experience over there is definitely in their favor, but we believe in ourselves."
Stamkos, 25, and defenseman Victor Hedman are the lone holdovers from four years ago, when Tampa Bay lost in Game 7 of the Eastern Conference finals.
After being swept by Montreal in the opening round of last season's playoffs, general manager Steve Yzerman bolstered the defense by signing Anton Stralman in free agency.
Another important acquisition was the signing of center Brian Boyle, who along with Stralman, appeared in the last year's Stanley Cup Final with the New York Rangers.
Another ex-Ranger, Ryan Callahan, was acquired in a trade last year that sent Martin St Louis to New York in a rare exchange of team captains.
The moves, along with this year's in-season trade that added defenseman Braydon Coburn, have provided solid leadership in a young locker room. Not to mention Coburn's winning goal in Game 7 of Tampa Bay's first-round series against Detroit.
"We have a lot of pieces to the puzzle. Some are more important than others, but they're all needed to make it complete," Lightning coach Jon Cooper said.
"This is a team that didn't play with each other, they played for each other," Cooper added, "and that's why we're here."
Cooper, finishing his second full season behind Tampa Bay's bench, has a deep appreciation for what Callahan, Stralman and Boyle have brought to the Lightning. Cooper also said Stamkos' role as a leader should not be overlooked.
Stamkos, one of the NHL's most skilled forwards, drew some criticism when he failed to score against Detroit in the first round, but teammates marvel over how he kept doing the little things that helped the Lightning advance.
"He's put the team in front of himself on every occasion during this run, as everybody has," Cooper said.
The Blackhawks are hoping their experience preparing for big games and knowing what to expect in the final will make a difference.
At the same time, there is a lack of familiarity with Tampa Bay that creates some uncertainty for stars Jonathan Toews and Patrick Kane and veteran leaders such as Duncan Keith and Patrick Sharp.
The Blackhawks and Lightning split of a pair of regular-season games, with each team winning at home.
"We know they don't have a whole lot of weaknesses," Toews said. "I think we'll have to be prepared for that and do as we normally do — talk about making things difficult on their goaltender, getting to him and making them play in their own end."
Comments will be moderated. Keep comments relevant to the article. Remarks containing abusive and obscene language, personal attacks of any kind or promotion will be removed and the user banned. Final decision will be at the discretion of the Taipei Times.