Mercedes to hold factory inquisition after Monaco gaffe
Formula One champions Mercedes were to be in full gremlin-hunting mode when they regroup at their factory yesterday after committing one of the sport's biggest strategic blunders at the Monaco Grand Prix.
Although they won Sunday's showcase race for the third year in a row with Germany's Nico Rosberg, the headlines were all about how the dominant team blew a surefire victory for Lewis Hamilton.
Hamilton had the race under control until the safety car was deployed about 14 laps from the end and the Briton was called in for a needless pitstop while rivals stayed out.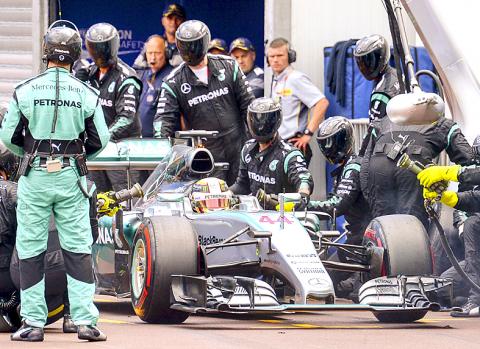 Mercedes Formula One driver Lewis Hamilton of Britain stops at his stand during the Monaco Grand Prix in Monaco on Sunday.
Photo: Reuters
The world champion finished third, his overall lead over Rosberg halved to 10 points.
Mercedes motorsport head Toto Wolff said an extensive debrief had been carried out already involving about 100 personnel from the factory, engine side and trackside operations on Sunday evening.
"We discussed it in an overview and we get back together on Tuesday morning to analyze it and by then we will know where we had a gremlin in the system," the Austrian told reporters.
Hamilton, who was excused the post-race debrief and usual team media duties in Monaco, is unlikely to attend after struggling to comprehend what had happened.
Others were equally mystified, with former racer David Coulthard among those saying the driver was badly let down.
Wolff said the decision to declare a "virtual safety car," a new development since last season, followed by a real safety car and Hamilton complaining about the state of his tires had caught the team out.
They thought he had enough time to pit and rejoin the race in the lead, but the figures were wrong, seemingly misled by unreliable GPS readings around the winding street circuit.
"The system, showing us a clear possibility of a free stop, was wrong by a couple of seconds," Wolff said. "In hindsight, if you look at it from a common sense standpoint, there is a very different logic."
Wolff would not say who made the call to pit and added Mercedes would not play the blame game anyway.
"I rate that guy and his group just as highly as I did before the race. He was dragged in by a decision, fooled by the numbers," the boss said. "There is no doubt what happened. We had a problem in our data tools and those data tools have won us many great races."
Comments will be moderated. Keep comments relevant to the article. Remarks containing abusive and obscene language, personal attacks of any kind or promotion will be removed and the user banned. Final decision will be at the discretion of the Taipei Times.