Yankees crush Royals 14-1, score 8 in first
Brett Gardner, Brian McCann and Chase Headley homered during an eight-run first inning as the New York Yankees quickly erased the memory of a lost weekend, romping past the AL Central-leading Kansas City Royals 14-1 on Monday.
Stephen Drew added another three-run homer off a favorite foil of the Yankees, Jeremy Guthrie (4-3), before the team made an out in the second.
Slade Heathcott hit his first major league homer in the seventh as New York, coming off a sweep by Texas, snapped a six-game skid. The Yankees won for just the second time in 12 games, beating the team that began the day with the best record in the majors.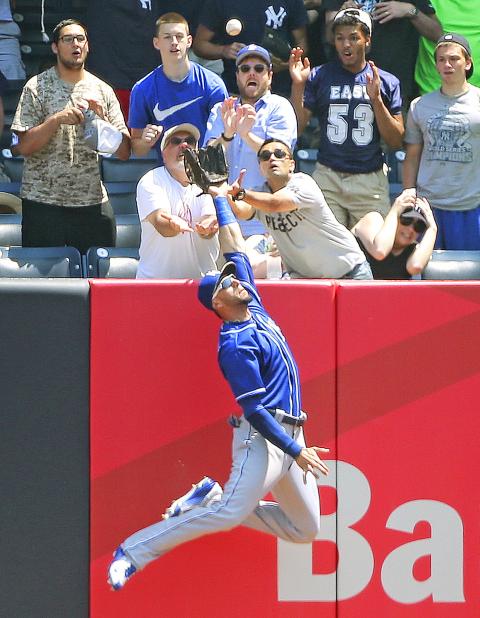 Kansas City Royals right fielder Paulo Orlando leaps, but cannot catch a three-run home run ball hit by the New York Yankees' Brian McCann during the first inning of their MLB game on Monday in New York.
Photo: AP
Nathan Eovaldi (4-1) pitched with runners on in all but two of his seven-plus innings. Working on five days' rest, he allowed eight hits and a run.
CARDINALS 3, DIAMONDBACKS 2
In St Louis, Missouri, Jhonny Peralta hit a game-ending homer in the 10th inning, lifting St Louis to a victory over Arizona.
Peralta's leadoff drive to left on a 1-2 pitch from J.C. Ramirez (1-1) was his fourth career game-winning homer.
The Cardinals improved to 4-1 in five extra-inning home games this month, including a sweep against the Pirates at the beginning of the month.
Mark Trumbo hit a tying two-run homer in the eighth for Arizona, but the Diamondbacks stranded five the last two innings. The Cardinals wasted two hits to open the ninth when Ramirez struck out Matt Carpenter, Matt Holliday and Matt Adams.
Carlos Martinez matched his career high with eight strikeouts in seven scoreless innings for St Louis, who got an RBI apiece from Matt Adams and Jason Heyward. Trevor Rosenthal (1-0) retired Michael Owings and Tuffy Gosewisch with the bases loaded to end the 10th.
DODGERS 6, BRAVES 3
In Los Angeles, Andre Ethier, Alex Guerrero and Jimmy Rollins each homered in the eighth inning, rallying Los Angeles to a victory over Atlanta.
Ethier got things started, homering to snap a 2-all tie against Nick Masset (0-1). Ethier's bases-loaded walk in the first drove in the Dodgers' initial run.
Pinch-hitter Guerrero sent a 3-1 pitch into the left-field pavilion, scoring A.J. Ellis, who walked, to make it 5-2.
With two outs, Rollins homered for a 6-2 lead.
It was the Dodgers' most runs scored since getting six on May 15 against Colorado. They lead the majors with 60 homers.
Adam Liberatore (1-0) got the victory, tossing 11 pitches. Kenley Jansen got three outs in the ninth for his fourth save.
ANGELS 4, PADRES 3
In Anaheim, California, Albert Pujols hit a two-out, broken-bat single with the bases loaded in the ninth inning to give Los Angeles a walk-off win over San Diego.
In other MLB action, it was:
‧ Nationals 2, Cubs 1
‧ Giants 8, Brewers 4
‧ Rangers 10, Indians 8
‧ Mets 6, Phillies 3
‧ Twins 7, Red Sox 2
‧ Pirates 4, Marlins 2
‧ Athletics 4, Tigers 0
‧ Rockies 5, Reds 4
‧ Mariners 4, Rays 1
‧ Blue Jays 5, White Sox 0
Comments will be moderated. Keep comments relevant to the article. Remarks containing abusive and obscene language, personal attacks of any kind or promotion will be removed and the user banned. Final decision will be at the discretion of the Taipei Times.