James' Cavs shoot down Hawks
'MIND OVER MATTER': Despite apparently playing with numerous injuries, Cleveland's All-Star forward still netted 37 points and was praised by coach David Blatt
LeBron James on Sunday played through a number of injuries as the Cleveland Cavaliers beat the Atlanta Hawks 114-111 in overtime to take a commanding 3-0 lead in the Eastern Conference Finals.
James recorded his first triple-double of the playoffs, finishing with 37 points, 18 rebounds and 13 assists as Cleveland pushed the Hawks to the brink of elimination in the best-of-seven series.
"No matter how I am feeling, I have got to try and make some plays," James said. "I felt like I couldn't give more, but then it was mind over matter. I was able to push through."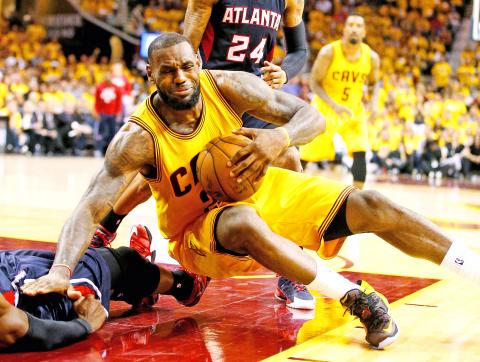 The Cleveland Cavaliers' LeBron James, center, collides with the Atlanta Hawks' DeMarre Carroll, left, in their NBA Eastern Conference Finals game at the Quicken Loans Arena in Cleveland, Ohio, on Sunday.
Photo: AFP
The banged up Cavaliers can advance to the NBA Finals with a win in Game 4 today.
A hobbled James thought about taking himself out of the game in overtime, but changed his mind. The pain on his face was plain to see when he drained a three-pointer with under a minute left to give the Cavaliers the lead.
Exhausted and sore, James then dropped to the floor after Sheldon Mack's potentially tying shot from beyond the arc bounced off the rim and out of harm's way as the final buzzer sounded.
"You name them. We could play doctor right now with how many injuries I got," James said. "We are a desperate team. We are a banged up team and if we come out and play as hard as we can, we defend on a high level and we share ball offensively then we will give ourselves a chance to win."
James, who missed his first 10 shots, ended 14-of-37 from the field. His shot to give Cleveland a 112-111 advantage with 36 seconds left was his only three-pointer of the contest in front of a crowd of 20,500 at the Quicken Loans Arena.
He banked in a field goal with 12 seconds left just one possession later, and Mack missed a pair of three-point attempts in the final five seconds.
Cavaliers coach David Blatt said James was dealing with cramps.
"He played through pain, he played through cramps and he just would not let us lose. He wouldn't let us lose, amazing," Blatt said.
James has had dehydration problems throughout his career. He had to leave Game 1 of last year's NBA Finals, while a member of the Miami Heat, with painful and debilitating leg cramps.
Already without Kyle Korver on Sunday due to an ankle injury, the Hawks lost All-Star forward Al Horford during the final minute of the opening half following a dust up with Cavaliers Matthew Dellavedova. The incident occurred after Horford and Dellavedova were fighting for a loose ball rebound.
Horford was assessed a foul and was thrown out of the game. He had scored 14 points on seven-of-10 shooting before leaving the contest.
"He was carrying us," Hawks guard Jeff Teague said.
The scrappy Dellavedova, who was handed a technical foul on the play, injured Korver Friday when he dove into his legs going for a loose ball. Horford retaliated against Dellavedova after a similar aggressive low dive.
"There has just got to be a line at some point," Horford said. "He is a competitor, but he has to learn that at end of the day it is a big brotherhood. Guys look out for each other."
Comments will be moderated. Keep comments relevant to the article. Remarks containing abusive and obscene language, personal attacks of any kind or promotion will be removed and the user banned. Final decision will be at the discretion of the Taipei Times.