Nepal sports in disarray after earthquakes
A revered national sports coach is among the thousands of dead in Nepal after being trapped in his rented house when a devastating earthquake rocked the nation on April 25.
The main soccer stadium was damaged, before becoming a makeshift refuge for displaced survivors of the quake. The national cricket team's preparations for a major international tournament are in disarray and the Asian weightlifting championships, scheduled for Kathmandu in July, are destined to be held somewhere else.
The two recent earthquakes — the second occurring on May 12 — killed more than 8,300 people and have had a devastating impact on all aspects of life in Nepal, including sports.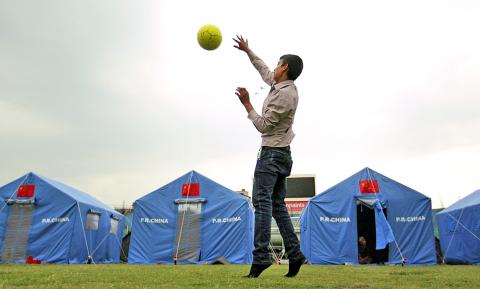 A man plays with a ball outside makeshift tents used for earthquake survivors at Dasharath Stadium in Kathmandu on Saturday.
Photo: AP
Nepal Volleyball Association secretary-general Jeetendra Bahadur Chand said coach Keshav Lal Shrestha's death in Kathmandu was "irreparable."
"He was a dedicated and experienced coach," Chand said of Shrestha, who played in the 1982 Asian Games in New Delhi and was coaching for almost 30 years. "He was a dedicated and experienced coach whose demise is a great loss for sports in Nepal."
Shrestha was among eight people associated with sports who were killed in the quakes, according to the National Sports Council's Deepak Bista, the member secretary of the players' welfare fund.
Paralympian Jeet Bahadur Khadka and prominent sports writer Suman Bhomjan also died.
The small but resilient national sports fraternity is determined to get things back on track.
Pubundu Dassanayake is trying to prepare the national cricket team for World Twenty20 qualifiers.
"We're not going to give up," he said. "The tournament is vital for the future of Nepal's cricket and we plan to go to India for preparations."
Nepal qualified for the last World Twenty20 in Bangladesh last year and are due to participate in the July 9 to July 26 qualifying competition in Ireland and Scotland, hoping to secure a spot at next year's edition in India.
"None of our players are harmed physically, but they have suffered mental scars just like any other person," said Dassanayake, a former Sri Lanka Test wicketkeeper, who has been coaching in Nepal since 2011. "A good performance by the cricketers will boost the morale of the country."
The quakes caused major damage to civic structures and heritage sites, and the scars are evident on sports venues, too.
The Tribhuvan University ground's indoor cricket facility has sustained obvious damage, while the walls surrounding the Dasharath Stadium, which hosted the recent FIFA World Cup qualifier against India, have collapsed.
Both venues are being used as shelters for people displaced by the earthquakes.
The national soccer league has been suspended indefinitely.
Nepal Football Association acting president Lalit Krishna Shrestha said that he was uncertain when the league would resume because "we have been experiencing aftershocks every day."
"The situation has pushed Nepal's sports a step backward," he said. "It is essential that every stakeholder of the country joins hands together to overcome the situation."
National soccer captain Sagar Thapa knows it is likely to take time for the nation to get back to normal, and that should be the priority.
"The primary focus is on safety of life rather than playing," Thapa said. "The earthquake has brought all walks of life together since it has hampered the life of everyone."
Comments will be moderated. Keep comments relevant to the article. Remarks containing abusive and obscene language, personal attacks of any kind or promotion will be removed and the user banned. Final decision will be at the discretion of the Taipei Times.