Choi touts benefits of Presidents Cup
This year's Presidents Cup in Incheon, South Korea, is likely to not only spur the growth of golf in South Korea, but also encourage other Asian nations to bring the tournament to their shores and boost the sport's popularity throughout the region, K.J. Choi said.
International team vice captain Choi said the team leadership would leave no stone unturned in their planning for the matchup with the US from Oct. 8 to Oct. 11 at Incheon's Jack Nicklaus Golf Club.
The US have won eight of the 10 Presidents Cups played since the biennial competition was established in 1994 and are likely to be heavy favorites for this year's contest, which is the first to be hosted by an Asian nation.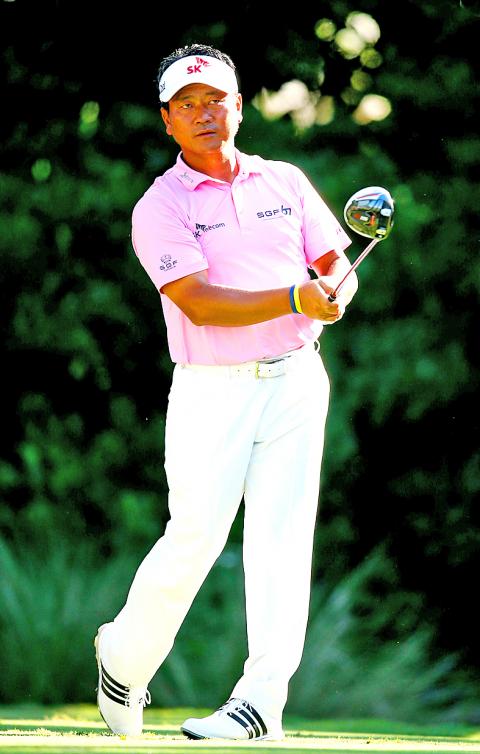 K.J. Choi of South Korea plays a tee shot during the Players Championship at the TPC Sawgrass Stadium Course in Ponte Vedra Beach, Florida, on May 8.
Photo: AFP
"This will bring big changes to golf not just in South Korea, but all around Asia," Choi said in a statement. "The Korean golf community will embrace the tournament and hopefully more young kids will start dreaming about playing golf and reaching the top."
"Also, other countries in Asia will attempt to host the Presidents Cup in the future, which will lead to the elevation of the game in the region," he added.
Choi, 45, said he had not given up hope of playing on International team captain Nick Price's team, but with his world ranking having slipped to No. 128, the 2011 Players Championship winner is more likely to act more in a leadership role.
Jay Haas takes over from Fred Couples as skipper of the US team.
The International team, representing the rest of the world minus Europe, have won the event just once — in Melbourne, Australia, in 1998.
They should have picked up another win five years later in South Africa, but surrendered a three-point lead on the final day to tie.
Choi made his debut at that tournament in 2003, where he beat Justin Leonard in the Sunday singles to steady the ship as the Internationals looked like they might collapse to defeat.
Comments will be moderated. Keep comments relevant to the article. Remarks containing abusive and obscene language, personal attacks of any kind or promotion will be removed and the user banned. Final decision will be at the discretion of the Taipei Times.