Lincicome wins ANA Inspiration
Long-hitting Brittany Lincicome outlasted Stacy Lewis with finesse after powering her way into a playoff on Sunday in the ANA Inspiration.
When caddie Missy Pederson suggested Lincicome go for the green on the par-five 18th in two in a playoff, Bam Bam decided to play it safe.
"She wanted me to hit three wood into the green one of the times and I was like, 'No, my wedges are good. We're just going to lay it up and let the wedges do all the work,'" Lincicome said.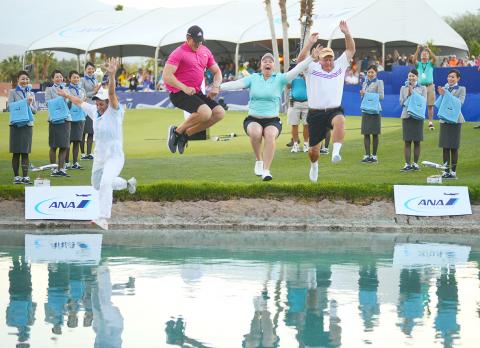 Brittany Lincicome, center right, jumps into Poppie's Pond with her caddie and family members after winning the ANA Inspiration on the third playoff hole at Mission Hills Country Club in Rancho Mirage, California, on Sunday.
Photo: AFP
After hitting a five iron 190 yards on the final hole of regulation to set up a 10-foot eagle putt that ended up forcing overtime, Lincicome laid up on all three extra holes in more difficult wind conditions. She made three pars, with the last one enough to finish off Lewis.
Instead of hitting a ball into the water, Lincicome found herself splashing around in Poppie's Pond after her second surprise victory leap in the major championship.
"Super emotional," Lincicome said at the 18th green. "I'm standing here, physically, shaking like a leaf still. It's over and I'm still shaking."
Playing a group ahead of Lewis, Lincicome — too nervous to look at leaderboards — did not know where she stood when she played the 18th in regulation.
"I thought I was so far out of the tournament that I never had a chance," Lincicome said.
She got an accidental glimpse at the leaderboard before she putted.
"I was trying not to look," Lincicome said. "So, I knew I needed to make it, and my caddie just said, 'You have one goal and that is to get it to the hole.' And I did."
In 2009 at Mission Hills, Lincicome hit a hybrid from 210 yards to 4 feet to set up a winning eagle in a one-stroke victory over Cristie Kerr and Kristy McPherson.
"You land it on the front, it takes that little slope, and I don't think my ball knows anything else other than that to do," Lincicome said. "It's done it twice now."
Lewis, the 2011 winner, had three chances to win on the 18th. She missed birdie putts from 13 feet in regulation, 15 feet on the first extra hole and 12 feet on the second.
"The initial reaction is disappointed, obviously," Lewis said. "But, I played great and I hit some really good putts there, especially at the end... I just played solid all day, so I have to remind myself of that and not get too frustrated. It just wasn't quite meant to be today."
On the third extra hole, Lewis left her 103-yard approach from a sand-filled divot short of the green and her chip stopped 12 feet in front of the pin. Her par putt came up an inch short, and Lincicome finished it off — missing a 10-footer and holing out from one-and-a-half feet.
Lincicome finished with a 69. The 29-year-old Floridian, a six-time winner on the LPGA Tour, is projected to jump from 18th to sixth in the world.
Lewis closed with a 70 in the tricky wind.
"Couldn't figure out which direction it was going," Lewis said. "It changed when we were on 18, multiple times during the playoff. The wind was all over the place."
Lincicome lost a playoff to Inbee Park last year in the LPGA Championship.
"I just took from that that it was nice to be in contention again," Lincicome said. "Just didn't let it get to me."
Two strokes ahead of playing partner Kim Sei-young and four ahead of Lincicome with five holes left, Lewis missed a chance for her third major title. She has 11 LPGA Tour victories and 18 runner-up finishes, three in seven starts this year.
The 30-year-old Texan bogeyed the par-four 13th and 15th — missing from 6 feet on 13 and 5 feet on 16 — and closed with three pars.
Morgan Pressel was third at eight-under-par. Her approach on 18 hit the hole and stayed out, leaving her a short birdie putt for a 70.
"I can't believe it basically hit the hole," Pressel said. "So close."
Kim, three strokes ahead of Lewis entering the round, had a 75 to tie for fourth at seven-under-par with Carlota Ciganda (68) and Anna Nordqvist (69).
"Very disappointed," Kim said through a translator. "It was just very difficult to figure out things, especially with the wind factoring in... It really confused me a lot."
Top-ranked Lydia Ko had a 73 to tie for 51st at three-over-par.
Taiwan's Hsu Wei-ling carded a four-over-par 292 total to tie for 57th, while Kaohsiung-born Candie Kung of the US finished with a seven-over-par 295 for a share of 69th.
Additional reporting by Staff writer
Comments will be moderated. Keep comments relevant to the article. Remarks containing abusive and obscene language, personal attacks of any kind or promotion will be removed and the user banned. Final decision will be at the discretion of the Taipei Times.