Djokovic wins fifth Miami Open crown
INCONSISTENT: The blistering Florida weather meant the quality of play was erratic, as position on the court was in many cases a key factor to the outcome of games
Hot but happy, Novak Djokovic had just begun celebrating his latest championship when he tossed his towel and sweatbands into the crowd. They were soggy souvenirs for sure.
Djokovic earned his fifth Key Biscayne title on Sunday, beating Andy Murray for the seventh consecutive time by showing superior stamina in the subtropical heat to win the Miami Open final 7-6 (7/3), 4-6, 6-0.
Murray broke in the final game of the second set to even the match, but fatigue then became a factor on a sunny, humid, 26.7oC afternoon.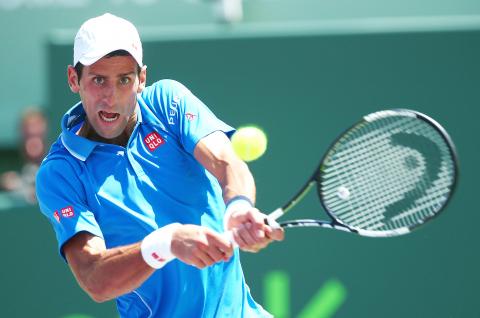 Serbia's Novak Djokovic hits a backhand against Britain's Andy Murray in the Miami Open men's final at Crandon Park Tennis Center in Key Biscayne, Florida, on Sunday.
Photo: AFP
Djokovic was the fitter player down the stretch.
"It was brutal — it's very warm," he said. "I was prepared for a physical battle, but it's one thing to prepare and another thing to experience it on the court. I was expecting very long rallies and just managed to play the third set the way I was supposed to, and I'm thrilled with this win."
The top-ranked Djokovic became the first man to complete the Indian Wells-Key Biscayne spring sweep three times, and he has done it twice in a row. He beat Murray in the Indian Wells semi-finals and in the Australian Open final for his eighth Grand Slam title two months ago.
Murray fell to 8-18 against Djokovic.
"I'm not quite there with Novak yet, but I feel like I'm getting a little closer," Murray said with a chuckle. "I'm sorry I couldn't make more of a fight of it in the third set. I was trying. My legs were tired and I couldn't quite finish hard enough."
Murray is to climb from fourth to third in the new rankings, but he has lost 12 consecutive matches to his biggest rivals — Djokovic, Rafael Nadal and Roger Federer — since winning Wimbledon in 2013 by beating Djokovic in the final.
Djokovic was inconsistent early in the tournament and let his frustration show, receiving two code violations and a point penalty during one win. He drew another code violation in the final for swearing after he lost the second set, but he quickly regained his poise.
In the last set, Murray hit two weary backhands into the net to lose serve and fall behind 1-0. Two games later, he saved five break points before dumping another backhand into the net to go down 3-0, before Djokovic easily closed out the win.
Murray acknowledged his third-set shutout by tweeting, "This egg today wasn't appreciated on Easter."
Djokovic's fresher legs at the end of the 2 hour, 47 minute match were especially impressive, because Murray lives in Miami and is more accustomed to the South Florida heat.
"I wasn't feeling great at all on the court," Djokovic said. "He was making me work, but he felt the same."
Murray conceded he wilted at the finish, but said he trains as hard as he can.
"I don't think that I can do a whole lot more physically to get in much better shape," he said. "It's tough, because it was obviously pretty brutal conditions out there and he was stronger than me at the end for sure."
Martina Hingis and Sania Mirza won the title in women's doubles by defeating Ekaterina Makarova and Elena Vesnina 7-5, 6-1.
The men's final matched two of the game's best retrievers, and they waged a succession of long, entertaining rallies in the early going. Djokovic's legs splayed as he skidded on the hardcourt digging out shots in the corners, while Murray hustled just as hard, closing one 35-stroke marathon with a backhand winner.
However, the quality of play was patchy, and Djokovic converted only five of 18 break-point chances. Both players blew overheads and easy volleys, and the bright sun bothered them in the opening set, when they looked directly into the glare at the north end of the court.
The player with his back to the sun won the first 10 games, which included four service breaks. In the tiebreaker, Djokovic took a 4-0 lead with his back to the sun and won the final two points on unforced errors by Murray.
As the angle of the sun changed, both players settled in on their serves and traded holds to 6-5 in the second set. Murray then came up with the shot of the match, blocking back a Djokovic overhead and landing it on the sideline for a winner.
Murray smacked a return winner on the next point to break at love and even the match, but that was his last hurrah.
His consolation: He is getting married on Saturday in his hometown of Dunblane, Scotland. Djokovic will not be attending.
"Not invited," Djokovic said with a smile. "But I wish him all the best."
Comments will be moderated. Keep comments relevant to the article. Remarks containing abusive and obscene language, personal attacks of any kind or promotion will be removed and the user banned. Final decision will be at the discretion of the Taipei Times.