Serena, Djokovic winners in Miami Open
The previous two matchups between Serena Williams and Simona Halep were blowouts.
This one was a thriller.
Williams is making another trip to the Miami Open women's final, after beating Halep 6-2, 4-6, 7-5 in a 2-hour, 7-minute classic on Thursday night. Looking for her eighth title at Key Biscayne, the top-seeded Williams meets 12th-seeded Carla Suarez Navarro of Spain today.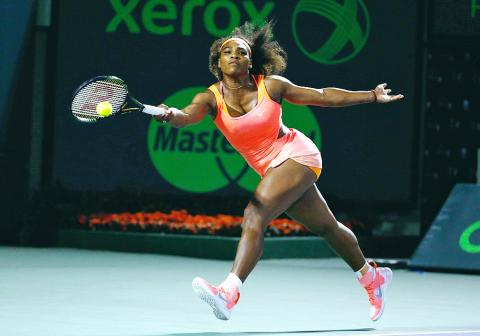 Serena Williams returns to Simona Halep of Romania at the Miami Open at Crandon Park Tennis Center in Key Biscayne, Florida, on Thursday.
Photo: AFP
"I made so many errors and I was like: 'Serena, just come to the net at this point, because that's the only thing that was working for me,'" Williams said. "I'm just really happy to get through that. It was actually a really fun match and I was able to come out and play here tonight."
Halep, the No. 3 seed from Romania, beat Williams 6-0, 6-2 last year during round-robin play at the WTA Finals. Williams returned the favor later in that tournament, 6-3, 6-0. They were to meet in the semi-finals at Indian Wells last month, but a balky right knee forced Williams out of that matchup.
The knee was not a problem in this one. Halep was, but as is usually the case, Williams found a way. She had 38 winners to Halep's 10, overcoming 45 unforced errors.
"Keep trying, that's all I could do," Williams said. "I never gave up."
Williams is 4-0 all-time against Suarez Navarro, who is assured of reaching the Top 10 in the world rankings win or lose.
The win also means Williams will extend her reign atop the rankings to at least 116 weeks, which passes Chris Evert's 113-week run for third-longest in WTA history. Only Steffi Graf (186) and Martina Navratilova (156) have been there longer in succession.
Suarez Navarro got her finals ticket after topping Andrea Petkovic 6-3, 6-3 earlier on Thursday.
Williams is not the only American still alive at Key Biscayne. No. 22 seed John Isner became the first US man to reach the semi-finals there since Mardy Fish in 2011, downing fourth-seeded Kei Nishikori of Japan 6-4, 6-3.
Next up for Isner: World No. 1 Novak Djokovic, the four-time champion at Key Biscayne who beat Spain's David Ferrer 7-5, 7-5 in another quarter-final.
Isner correctly picked Final Four on his NCAA Tournament bracket. He is now in his own Final Four.
Isner was serving at 4-4, 0-30 in the first set, briefly flirting with trouble. A few minutes later, it was basically over. He won the next 11 points and 19 of the next 21, at one point leaving Nishikori with no choice but to shrug his shoulders as another winner whizzed past.
Isner has not been broken in the tournament and won 41 of 52 points on his serve on Thursday with 13 aces.
Djokovic got on a similar roll in his quarter-final. Down 3-0 early, he won 10 of the next 13 games and never looked back — spoiling Ferrer's 33rd birthday.
"A very close match," Djokovic said. "I enjoyed it."
Comments will be moderated. Keep comments relevant to the article. Remarks containing abusive and obscene language, personal attacks of any kind or promotion will be removed and the user banned. Final decision will be at the discretion of the Taipei Times.