Ireland's Mooney hits back at Zimbabwe newspaper
Ireland all-rounder John Mooney yesterday said he hoped the personal attack on him by a Zimbabwean newspaper would not discourage others with mental health problems from speaking up.
Mooney's battle with alcohol and depression was mocked by the Zimbabwe Herald after he took a catch on the boundary in Hobart on Saturday that helped eliminate Zimbabwe from the World Cup.
TV replays were called to determine if the big Irishman had touched the boundary with his foot, which would have resulted in a six as Zimbabwe inched closer to the target.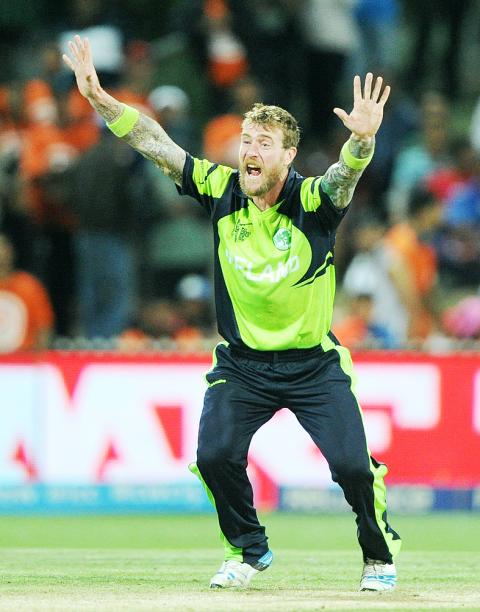 Ireland's John Mooney appeals during their World Cup match against India at Sedden Park in Hamilton, New Zealand, on Tuesday.
Photo: AFP
"Alcoholic dumps Zim out of WC," said the newspaper headline, which has been widely condemned.
The catch "was a shameless piece of fielding dishonesty... Is it possible for a person like Mooney to be trusted?" the newspaper wrote.
Zimbabwe's stand-in captain Brendan Taylor apologized to Mooney for the "unacceptable article," and the Irishman thanked him on his Facebook page yesterday.
"Last night I texted Brendan Taylor to thank him and his team for their apology," Mooney wrote in his post. "They are great blokes and they didn't have to do that, because I know the man that wrote that article does not represent their team."
"The main thing that gets to me about his article is that it might prevent somebody from getting the help they need in the future. The reason I spoke to the press about my struggles was to promote mental health issues, using the fact I'm a sportsman to reach people who feel they can't tell people their problems... Let me just say, the day I told people my issues, I felt a huge sigh of relief," he said.
"I don't want people to see this terrible article and say: 'Oh I'm not telling anyone, people will slag me off, or my name will be tarnished,'" he added. "People will help you, people who you least expect will give you strength. Life will be better, not worse."
The 33-year-old Mooney has suffered from depression and battled alcohol abuse in the past and was forced to quit Ireland's tour of the West Indies last year.
The International Cricket Council had not yet reacted to the article.
Cricket Ireland chief executive Warren Deutrom condemned the article as "crass" and representing a "gross error of judgement."
"It would be easy to dismiss [the story] as a childish diatribe if it wasn't for the vicious personal attack on John, which cannot pass without comment, and possible action," Deutrom said in a statement.
"John represents his country with honor, distinction and integrity. That he does in the face of personal challenges about which he has spoken openly and movingly demonstrates incredible hard work and great courage," he said. "We understand, as does John, that public figures may occasionally be subject to negative comment, but in mocking John in such a contemptuous fashion, and using his personal difficulties as a mere punchline, the Zimbabwe Herald has demonstrated breath-taking crassness and a gross error of editorial judgement."
Mooney's team are preparing for Sunday's key clash against Pakistan at the Adelaide Oval that will steer the winner into the quarter-final and leave the loser facing a tricky run-rate countdown against the West Indies.
Comments will be moderated. Keep comments relevant to the article. Remarks containing abusive and obscene language, personal attacks of any kind or promotion will be removed and the user banned. Final decision will be at the discretion of the Taipei Times.