Top seeds blown away in Dubai
Titleholder Venus Williams and Wimbledon champion Petra Kvitova headed a long list of seeds blown away on Wednesday at the Dubai Duty Free Tennis Championships.
Williams, unbeaten in 16 matches over six years in Dubai, and Kvitova, the champion two years ago, both failed to reach the quarter-finals, and they were joined by another former winner, Agnieszka Radwanska, and a former world No. 1, Ana Ivanovic.
All were ousted at an upgraded tournament with a first prize which is now nearly half a million US dollars, suggesting the pool of talent capable of beating the leading players has deepened.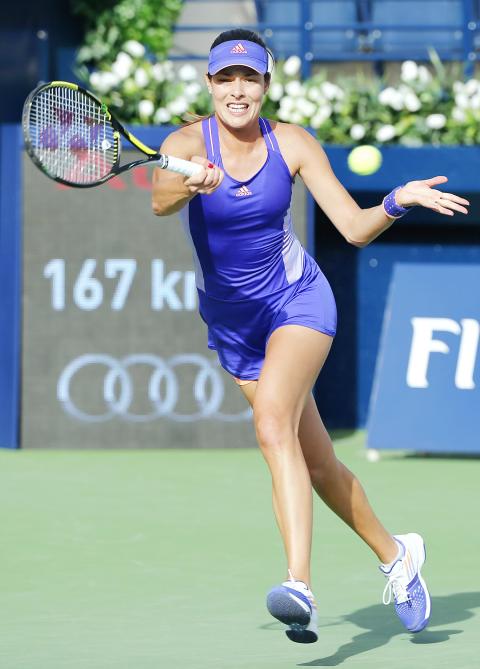 Serbia's Ana Ivanovic returns to Karolina Pliskova of the Czech Republic in their Dubai Duty Free Tennis Championships third-round singles match in the United Arab Emirates on Wednesday.
Photo: AFP
One of them is Lucie Safarova, a 28-year-old Czech who outplayed Williams 6-4, 6-2 and whose hard-to-read left-handed serve contrasted markedly with the 34-year-old American's delivery, which appeared half-paced amid on-court temperatures reaching 40?C.
"I think she played awesome," a gracious Williams said. "There were a couple of games where I didn't even get my racket on the ball. What can I say to that?"
Karolina Pliskova, a younger Czech, whose steep serve launches an attacking game which is flat and forceful enough to trouble anyone, overcame an often excellent Ivanovic 6-2, 4-6, 6-4.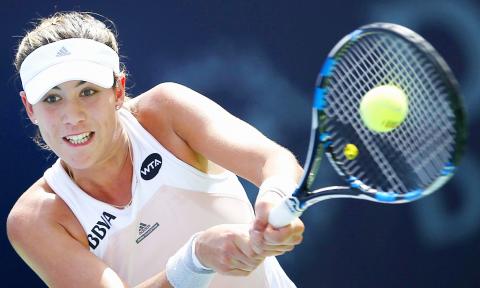 Spain's Garbine Muguruza returns to Agnieszka Radwanska of Poland in their Dubai Duty Free Tennis Championships match in the United Arab Emirates on Wednesday.
Photo: EPA
Ivanovic did not help her cause with two double faults near the end which scuppered her chances.
"We don't have many players like that," Ivanovic said. "She [Pliskova] hits very flat and she hits quite late, so it's difficult to tell where she's going to go."
Pliskova, 22, does have an idea where she wants to be going.
"I always knew if I can keep to my game, serve good and play aggressive from the baseline, and if it's going, I can really, like, beat everyone," she said.
Perhaps the most likely player to burst on to the scene in a big way this year is Garbine Muguruza, a 21-year-old Spaniard who plays fearlessly and who overwhelmed an ailing Radwanska 6-4, 6-2.
"I think that nowadays, like there are so many girls that play so good that the difference between the top players and the other ones are really small," Muguruza said.
Another Spaniard, Carla Suarez Navarro, accounted for Kvitova 6-3, 4-6, 6-3 on a tree-lined outside court where flocks of birds increased in numbers and made an increasing cacophony as the sun went down.
Navarro's ground strokes always looked as if they might be slightly too much for the under-pressure second seed, who mostly played quite well, even though her swerving serve did not always make the angles she would have liked.
Kvitova was well aware of the danger from the start.
"I think, like, the top 50 is pretty same level, and only in the small, important key points it's different," she said. "Everybody can beat everyone in the top and, yeah, maybe it's nice for the fans to see something new."
Muguruza has hopes of reaching the top 20 by the end of the week. Navarro is inside the 20 already. They next play each other.
Fortunately Simona Halep, the top seed, and Caroline Wozniacki, the former world No. 1, both survived — a relief to tournament stakeholders fearful of losing all the famous names.
By far the biggest miss will be Williams.
Her loss was the more surprising given that it was only her second of the year and that she is hopeful of returning to the world's top 10 after a four-year interval.
"But I don't think I was playing badly and have been super happy with the year so far," she said.
She may go to Doha next week, but confirmed she would not go to Indian Wells to join her sister Serena, the world No. 1, who will return to the Californian event after 14 years during which both sisters have boycotted the tournament — a response to hostile treatment from spectators.
Asked if she understood Serena's decision to let bygones be bygones, Venus said: "Um, I don't know. I just respect every decision she makes, pretty much. There's nothing complicated about it."
Comments will be moderated. Keep comments relevant to the article. Remarks containing abusive and obscene language, personal attacks of any kind or promotion will be removed and the user banned. Final decision will be at the discretion of the Taipei Times.