Patriots rally late to win Super Bowl
SO CLOSE, YET SO FAR: The Seattle Seahawks went 24-14 up in the fourth quarter, but could not hold on to their lead and were left to rue tactical errors in the dying moments
The final two minutes of Super Bowl XLIX included a perfect possession by Tom Brady for the go-ahead points, a juggling catch that could have been the play of the year, and a victory-clinching end-zone interception on a pass — not run — from the 1-yard line.
A Super Bowl that got off to a slow start wound up with a spectacular finish, a lot like the New England Patriots' entire season.
Brady threw two of his four touchdown passes in the final quarter to erase a double-digit deficit, rookie Malcolm Butler picked off Russell Wilson's short throw while Marshawn Lynch watched, and the Patriots ended a decade drought without an NFL title by beating defending champions the Seattle Seahawks 28-24 in a taut classic on Sunday.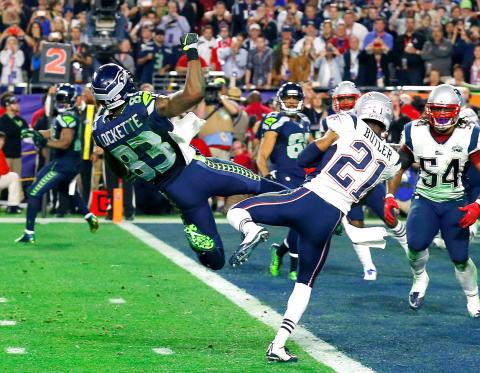 The New England Patriots' Malcolm Butler makes an interception as he collides with the Seattle Seahawks' Ricardo Lockette during their Super Bowl XLIX game at the University of Phoenix Stadium in Glendale, Arizona, on Sunday.
Photo: EPA
"Every team has a journey and a lot of people lost faith in us early, but we held strong. We held together," said Brady, who was voted Super Bowl XLIX Most Valuable Player (MVP) for a record-tying third time.
He was talking about the preceding months, not minutes, but both made sense. After all, back in September last year, when New England lost 41-14 at the Kansas City Chiefs to fall to 2-2, there was a lot of talk about whether Brady was done, whether the Patriots were simply no longer a powerhouse.
Yet when coach Bill Belichick was asked when he knew he had a special team, he pointed to half-time of that poor performance against the Chiefs.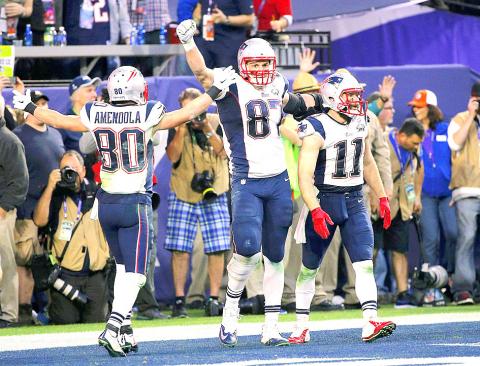 The New England Patriots' Rob Gronkowski, center, celebrates scoring a touchdown with teammates Julian Edelman, right, and Danny Amendola during their NFL Super Bowl XLIX game against the Seattle Seahawks at the University of Phoenix Stadium in Glendale, Arizona, on Sunday.
Photo: Reuters
"We weren't having a good day, but we kept fighting," Belichick said. "To me, if there was ever a time that we were not going to compete as hard, that would have been it. The fight and the competitiveness was there, and that gave me a lot of confidence going into the next week's game. That was a key point in our season."
The Patriots were prepared to weather the scrutiny that came with an NFL investigation into whether they deliberately deflated footballs in the AFC championship game two weeks ago. They compartmentalized that and focused on the Super Bowl.
They set aside Brady's two interceptions that helped dig a 24-14 hole in the fourth quarter, moving into the lead after Brady connected with Danny Amendola from 4 yards out for one score with about 8 minutes left, then hit Julian Edelman from 3 yards for another touchdown with 2 minutes, 2 seconds remaining.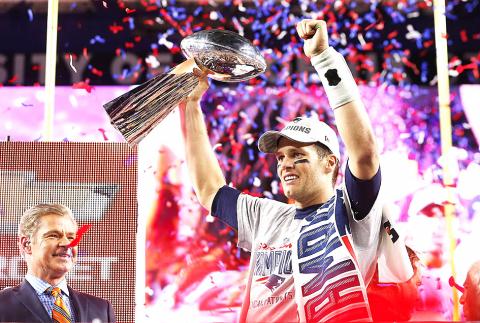 The New England Patriots' Tom Brady, right, who was voted Most Valuable Player, celebrates with the Vince Lombardi Trophy after their NFL Super Bowl XLIX game against the Seattle Seahawks at the University of Phoenix Stadium in Glendale, Arizona, on Sunday.
Photo: AFP
They were determined to not let the game get away when the Seahawks' receiver Jermaine Kearse made a falling, juggling, bouncing reception on his back for a 33-yard gain that set up first-and-goal from the 5-yard line with 1 minute, 6 seconds to go.
It was Butler who was in coverage on that play, although there was nothing more he really could have done.
They dealt with a shotgun pass by Wilson two plays later from the 1-yard line, rather than a run by the barrel-chested Lynch, who tied for the league lead in touchdown runs this season with 13.
Butler sure was ready, and his pick sealed the ultimate outcome, even if everyone had to wait while the officials cleared up a brawl.
"When they passed the ball, I was kind of surprised by it," the Patriots' nose tackle Vince Wilfork said. "But at the same time, we made the play."
Lynch gained 102 yards on 24 carries and scored an earlier touchdown, leaving many mystified as to why Seattle would not have handed off to him in that vital situation. Even some of the Seahawks were bewildered.
"I don't understand how you don't give it to the best back in the league," the Seahawks' linebacker Bruce Irvin said.
"We were on the half-yard-line and we throw a slant. I don't know what the offense had going on, what they saw," he added.
The 37-year-old Brady went 37 for 50 for 328 yards and matched his childhood idol, Pro Football Hall of Famer Joe Montana, for most Super Bowl MVP awards. Brady also broke Montana's Super Bowl record for most career touchdown passes, getting to 13. On the drive that resulted in the winning points, Brady went 8 for 8 for 65 yards.
"He's so calm and collected," Amendola said about his quarterback. "He's the best. He gets everybody to play at a higher level. He's our leader emotionally."
It did not matter that the Seahawks came in with an eight-game winning streak, or that their defense, led by Richard Sherman and the self-styled "Legion of Boom" secondary, was the first in more than 40 years to lead the NFL in fewest points allowed three seasons in a row.
This was going to be the Patriots' day. Belichick's day. Brady's day.
"I've been at it for 15 years and we've had a couple of tough losses in this game," Brady said.
"This one came down to the end, and this time we made the plays," he added.
Comments will be moderated. Keep comments relevant to the article. Remarks containing abusive and obscene language, personal attacks of any kind or promotion will be removed and the user banned. Final decision will be at the discretion of the Taipei Times.